2031: Former Delta SSG woo Isoko For Okowa's Second Term Bid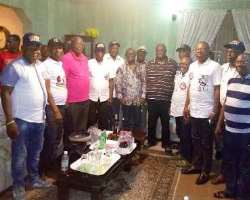 Former Secretary to Delta State Government (SSG), Comrade (Chief) Ovuozourie Macaulay, has declared support for the re-election bid of Senator Ifeanyi Okowa ahead of the 2019 general elections, with a call on Isokos to do same.
Macaulay made the call when he led his political family on a courtesy visit to the Peoples' Democratic Party's (PDP), National Vice Chairman (South-South), Bro. Emmanuel Ogidi in Ellu, Isoko North Local Government Area.
He assured Ogidi, that the Isokos could not afford to vote against Okowa, in the forthcoming election.
According to him, the party's arrangement is for every senatorial district to stay two terms in office as governor, stressing that any deviation from that arrangement could spell political misfortune for other senatorial districts that are on the wait to return to government house.
Accompanied by Chief Paul Odhomo, Prof. Samuel Aghalino, Hon. Patrick Ferife, Chief Emmanuel Edevor, Hon. Mike Ogwah, Chief Sunny Uthoro, Mr Sunny Elueni, Barr. Ichie, Mr Martins Ugbwogu amongst others.
Macaulay called on Isokos to support Okowa again for a second term so that Delta North would support Isoko for governor in 2031.
He said, "We the Isokos are ready to give Okowa a second term. Anything away from that will disrupt the arrangement. I will like to see an Isoko Governor in my life time. At 70,I will not contest Governorship. Isokos cannot afford to be on the wrong side of political history. Let's unite to get it Right."
"In 12 years' time, I cannot aspire to be a governor because it will not be fair to my followers. Isoko must do deep calculation to stay afloat. Isoko leaders must stop the politics of pull him down and build capacities. In the fast approaching 2019 election, we must beat that mark of 67,000 votes of 2015. Okowa have to win and win very convincingly. That should be our mission." Macaulay stressed.
Present at the visit include, DESOPADEC Commissioner representing Isoko Nation, Hon. Ovie Oghoire amongst other grassroots politicians.