I have robust plan for education sector in Osun -Oyetola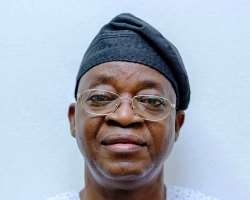 A governorship aspirant of the All Progressive Congress (APC) for the September 22nd gubernatorial election in Osun State, Alhaji Adegboyega Oyetola has promised to ensure provision of qualitative education in the state when he becomes the next governor.
In a chat with The Nigerian Voice at his campaign office in Osogbo, the state capital, Oyetola observed that equitable public education is central to a healthy democracy and a thriving economy and promised to give special attention to education.
The aspirant who is currently the Chief of Staff to the Governor, Mr Rauf Aregbesola vowed that he would give special attention to education sector if he is given the opportunity to succeed Governor Rauf Aregbesola.
The Iragbiji-born technocrat stated that a major revolution in the educational sector has begun in Osun given the investment in massive school infrastructure development under the Ogbeni Rauf Aregbesola administration which has been widely acknowledged as second to none in the country.
He also noted that with the Elementary School Feeding and Health Programme of the Aregbesola's administration which has won several local and international recognitions and awards, a strong foundation has been laid in the educational sector on which he will further build upon.
"Education helps people make progress on the path of social mobility. When we educate our people, our society, way of life becomes stronger and better. That is what our leader, Chief Obafemi Awolowo did. It was the gift he gave us. That is why I can stand before you today."
"We will challenge our children with high expectations from a rich, well-rounded educational curriculum that will provide them hope in a time of despair and help them thrive and become useful adults. My commitment to this is personal. We must move towards a culture of ambitiousness, inclusiveness, equity and excellence.
Oyetola said he believes in equitable access to education and a level playing field. "When we pull others up, they do not pull us down. When we shine the light of opportunity on others, we will not dwell in darkness. It is through qualitative education that we can fight for social and economic justice."
"It is injustice if we allow poverty to bind a child to a life of limited possibilities because they can't afford quality basic education. Good education comes with standards. We must resist efforts to water down those expectations and undercut our efforts to improve education when the work gets hard.
"Collectively, government, parents and teachers must have the courage to hold ourselves accountable. Without accountability, standards are meaningless and equity is a charade. If you elect me as your governor, I will invest in regular training and retraining to further equip our teachers so they can help students meet those standards.
He noted that teaching is a difficult job and promised to invest in teachers' preparation and development and welcome their expertise and leadership on issues that affect their students. He added that teachers need more resources and promised to ensure that the teachers in the state get the pay they deserve.
"We are most times quick to blame teachers for all our educational problems. We can make a better choice. If you give me your mandate, innovation, quality, accountability and effective teaching will be my approach. I will also further strengthen technical vocational education to provide technical skills for our people."
"We have the infrastructure, what we need now is an enhanced process and I am ready to drive the process. I ask all of you to give me the opportunity to serve you.
"The current administration which I am part of has done well in providing education infrastructure. We will further build on this, improve the quality of our post-secondary education, for our youths to learn the skills required to give the state a competitive edge."
"In this regard, we shall be upgrading our vocational technical institutions. We shall make them more vibrant and fit to educate our youth for the demands of a technology-driven fast-paced world", Oyetola stated.