Kwara 2019: It's time to say goodbye to Saraki!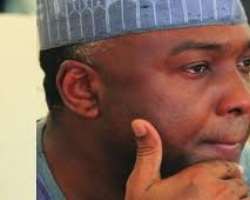 Like other Africans, the Yoruba people of south west and north central Nigeria have a way with words. Roughly translated, one of their enduring sayings goes: 'a benefactor who is not willing to ease your burden should let you be without adding to your troubles.' In other words, a master you serve for long with nothing to show for your loyalty is not worthy of your service!'
By 2019, the abused people of Kwara state would have, directly and indirectly, loyally served Senator Bukola Saraki for more than a decade and half with virtually nothing to show for it! Quite frankly, it is about time to say goodbye and the swansong in February, 2019 should be '' Saraki, o to gee''! ( ''Saraki e don do''! )
The 2019 general election presents the long-suffering people the golden opportunity to make a clean break with the past. It is either the people vote to retrieve their future and launch the state on the path of greatness or stick with the status quo and continue to sneer from the snake pit their state has been turned into. The expectation is that the people, having watched while opportunities were frittered for close to two decades, will do things differently in 2019.
The next election is time for noble men and women in the state to speak up if the state must avoid the costly mistakes of the past. Within the next twelve months or so, politics will be too thick in the air and the klieg lights would have shifted to candidates jostling for various elective posts at state and federal levels. The governorship race in Kwara state which has, in recent years generated uncommon interest, is not going to be an exception! The 2019 election is an opportunity that must not be frittered if the state must break the asphyxiating hold of freeloading puppets and their masters.
This time around, Kwara state cannot afford to get it wrong. To get it wrong is to elect another caretaker puppet governor who will hold the cow for some overbearingly imperious masters to milk. The choice before the people of Kwara state in 2019 is to end their enslavement to politicians who sole aim in government is anything but noble. If things do not change and another stooge surfaces at Government House, Ilorin, in 2019, chances are a huge chunk of the resources of the state will, as has been the case over the past two decades or so, go into fuelling the false lifestyle of a few.
If truth be told, installing another puppet in 2019 is a return to the famished, bumpy and anger-inducing road of the past two decades. The only bulwark against this is for the people to identify and elect noble candidates into political offices. Reference here is to individuals who are beyond reproach and who will strive to improve the state and not those who will expect the state to improve them! Without recourse to political affiliations, it is time to elect honest and dedicated individuals that the people of Kwara state can call their own!
Specifically, the next governor must not be a puppet leader whose main brief will be to keep watch over the treasury for others to plunder. Several individuals fit the bill! Top on the list is Alhaji Abdulrauf 'Lai Mohammed, Nigeria's minister of information. It is a secret of the marketplace that, as Chief of Staff in the administration of Asiwaju Ahmed Bola Tinubu, information minister 'Lai Mohammed was an active participant in laying the foundation for the ongoing socio-economic transformation in Lagos state. He has not looked back since then.
Since he moved to the national political stage, Lai Mohammed has proved, through diligence to assigned roles and duties, that he has a key role to play in salvaging Kwara state.
Today, 'Lai Mohammed has distinguished himself and stands out among the motley crowd that could be called upon to get Kwara state out of the disharmonious state it has been forced into by years of unrestrained plunder. The last time he participated in the governorship primaries in Kwara state, hired third rate publicists projected him as a Lagos politician (whatever that meant!) who had no business aspiring to be governor of Kwara state!
Once again, the talebearers went to town when he was announced as ministerial nominee for Kwara state. But, not a man to be swayed by oddities, President Muhammadu Buhari thought otherise in the belief that 'Lai Mohammed will deliver. Neither the president nor the Nigerians Lai Mohammed was appointed to serve has been disappointed! And, if the ongoing
Socio-economic transformation in next door Osun state is anything to go by, Lai Mohammed can be trusted to surpass Governor 'Rauf Aregbesola who was also part of the Lagos success story.

Sadly, it has been the frustration with the subsisting caretaker arrangement in Kwara state that forced the peace-loving people of the state to haul rocks and invectives at so-called political leaders! It is an irony of fate that the never-do-well political arrangement that turned a wonderful people into objects of insults and butts of derisive joke from their neighbours was allowed to subsist for so long! At the expiration of the current caretaker government, the people of Kwara state do not deserve another caretaker governor or puppet leader!
It will be a tragedy if, in 2019, a state that brims with some of the sanest men and women in the country elects to provide sanctuary for slave-owning politicians who do not appreciate the demarcation between state funds and personal bank accounts! The straight-thinking people of Kwara state should quit dancing to the weird drumbeat of a larcenous, self-serving few and be prepared to return the 'State of Harmony' to its true state of harmony.
There should be no room for mind-blowing tales of looting by puppets and their masters after 2019!
Get it right or lose it forever!

Magaji < [email protected] > is based in Abuja