God Has Removed All The Bad Eggs From Pdp - Hon Nwawuba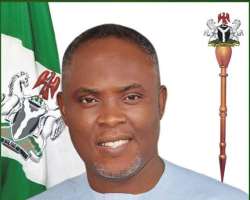 Hon. Henry Nwawuba is a House of Representatives member from Mbaitoli/ikeduru federal constituency, Imo State. The Federal parliamentarian urges the people of Imo State to trust and vote his party, the People's Democratic Party to return to power in 2019. He stated that his party twill provide the urgently needed true leadership that has the milk of human kindness since God in his mercy has removed the bad eggs within the party. He assures that the party is fully prepared to provide quality leadership.
The lawmaker stated this in Abuja last week during an interview with The Nigerian Voice. He believes that if the People's Democratic Party is returned to power in Imo State, governance will revert back to people oriented where there will be total restoration of the constitution of Nigeria. He stated further that it will ensure the full functions of the local government system, development and construction of quality infrastructure as well as provision of jobs for the teeming unemployed youths in Imo state.
Hon Nwawuba regretted that the present government in Imo state is increasing hunger, starvation and misery in the land through demolition of people's properties, shops, and other business premises. Including markets. He said the situation in Imo state is seriously affecting all Imolites directly and indirectly. He said a situation where salaries are not paid or half salaries paid can best be described as anti-people.
He advised that Imo people should take their destiny to their own hands by voting for PDP come 2019 to correct the entire impediment that brought retrogressiveness and unproductive government.
On his part Hon. Henry Nwawuba said his people are the best to assess his performance in the National Assembly in his first term. He opined that presently he has 8 bills presented in the House of Representatives to his name and one of them has gone to the senate for concurrent. Amongst them is the popular South East Development Commission bill. Also a bill intending to give tax holiday for new business operators. This, he said will encourage the new businesses to stand before they can begin to pay taxes to government.
Apart from eight bills Hon Nwawuba added that he had also presented 16 motions most of them directly impacted positively to the people of his constituency and Imo state in general.
He stressed that through his constituency outreach he has empowered many citizens of his constituency on capacity building, education, health and agricultural development and other construction works scattered within his constituency of Mbaitoli/Ikeduru. He stated that 250 women through National Directorate of Employment has been trained as part of human capital development and as at last year 2017, about 30 people secured employment through him in various Federal Government Ministries, Departments and Agencies. He said that with his legislative experience in his first term, he is now better equiped to do more in future.
He hinted that he is still consulting with his people and party leaders on other ways to ensure development and will let his people know his stand on 2019 very soon.