Poverty can be defeated: President Museveni addresses the Nation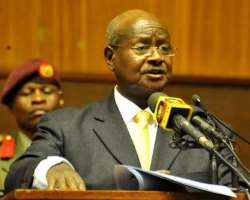 President Museveni recommends the Ugandans to embark on commercialisedagriculture in the fight against poverty.
"68 percent homesteads that are still subsistence arethatare a big source of our poverty, 68 percent are not active in the economy and they are just by-standards" President Museveni said.
He informed that commercial agriculture has been one of the battles he was fighting since 1966 when he left school although the battle was frustrated by the elite who were self-centred.
"Iwould not accept to leave with neighbours that are stack in poverty," he stated.
As a farmer, president Museveni exuberantly expressed the magic of agriculture in the economy, as he stated that he patiently educated people until they were able to join the gospel of wealth creation through production.
Adding to the above, hesaid that he settled the battle in the cattle corridor in 1966 end of year and with his late colleague Mwesigwa they sensitised the nomadic 'Banyankore' as to the need to become sedentary and, later,join the dairy industry which effort has succeed beyond imagination.
"In Kiruhura District (Western Uganda) alone there are 6,000 dairy farmers producing 800,000 litres of milk per day" he stated.
He revealed that the total production of milk in Uganda went from 200million litres to 2.5million litres per annum, therefore liberating Uganda from depending on imported powdered milk to becoming an exporter of milk and its products to the tune of US$130million per annum.
Although on account of the laxity by the veterinary staff and also the carelessness of the farmers themselves, there was a problem of tick resistance to acaricides, which problem is being addressed by scientist.
He reinforced that, this was to ribcage illiterate people to do commercial farming and the milk that was imported from Denmark as powdered milk is now produced in Uganda.
"Having confirmed that villagers can be enlightened in to becoming commercial farmers in the dairy sector, during the whole of 1995, I travelled throughout the Country and preached the gospel of wealth-creation" he added.
"Unfortunately many leaders are never bothered with substance of leadership;they spenda lot of time on PR (public relation) and no time on substance"he expressed.
President Musevenitherefore, assured that real mobilisation is helping the people to solve the problem of wealth creation, jobs, health, and education, and urged leaders to embark on the later.
President Museveni discoursed this in his state of the Nation Address delivered today Wednesday 06th June, 2018 at the Kampala Serena Hotel in fulfilment of Article 101 (1) of the Constitution of the Republic of Uganda.
However, some members fromthe opposition wing expressed their discontentedness, claiming that the President did not thoroughly explain on the issue of the rambling kidnaps and killing of children and women in the Country.