Pmb: Rename Abuja Stadium After Emmanuel Ifeajuna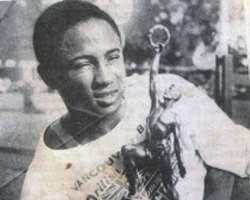 Your Excellency, I recalled you hosted the Nigerian men's national soccer team dubbed the Super Eagles by the erstwhile Chief of General Staff, the late Admiral Augustus Aikhomu at the Presidential Villa on Wednesday 30th May, 2018.
However, as the nation still nurses the ambition of hosting the Commonwealth family in the near future, it behooves one to ponder on the fate of the nation's first commonwealth champion, the late super athlete, Major Emmanuel Arinze Ifeajuna, who brought the country's first major honour in a major international sporting competition way back at the Vancouver 54 Commonwealth Games. But Ifeajuna unlike the biblical Mordecai, who was honoured by King Ahasuerus after the King discovered to his utter disbelief that no honour has been bestowed on a man worthy of honour, it is mind boggling that this record setting sporting hero in spite of his illustrious 2.03m golden leap that pushed Ugandan's Patrick Etolu and Nigerian compatriot Osagie Nafsio to the second and third spot with a 1.99m jump has been consistently denied national honours befitting his sporting prowess by successive administrations even when lesser mortals have been adequately rewarded (The late trail blazing champion was scandalously excluded from the list of 50 Distinguished Nigerians even when those with lesser pedigree in the sporting circuit had their names inscribed in Gold!) .
It is on record that the victorious 1980 Green Eagles squad all had Houses, cars and national honours,1985 Golden Eaglets had street named after them with scholarship attached,2007 Eaglets had houses, Saudi 89 Silver winning squad were rewarded with =N=75,000 and stocks, 3SC 1992 CAF supremo had houses, ditto for Tunisia 1994 Eagles,1996 Dream team and the super cop Chioma Ajunwa received National honours and =N= 1M each for their efforts, the 2003 CAF Champions league numero uno Enyimba FC are today proud KIA automobile owners, the victorious Delta contingent to the Abuja 2004 national sports festival had =N=100,000 for gold medalists and a swimming pool to be constructed and named after the pool queen –BLESSING FORCADOS, and those who fulfilled Frenchman Baron Pierre de Coubertin philosophy of participation all got =N=10,000 each, to cite but these few cases.
If the sole reason for the unfair treatment for ignoring the monumental achievement of this conqueror of the British Empire(at least in High Jump) as being insinuated in certain quarters is his prime role in the January 1966 maiden coup de tat, implying that a coupist cannot be honoured or decorated with national award, then the hogwash proposition is not only laughable but smack of sheer double standard, and the hallmark of travesty and miscarriage of justice, for it is an open secret that seasoned coupist and allied conspirators have been duly or unduly honoured with state and national awards while having national and state monuments dotting the entire landscape of the nation named and renamed after them, and have contested (and still contesting) elections at every sphere of national polity (I beg to be corrected)!
What is good for the goose should equally be good for the gender, even if the triple R-Reconstruction, Rehabilitation and Reconciliation deliberately excludes Ifeajuna and co, the Obasanjo administration has been magnanimous enough to restore the ranks of officers and men involved in the heady civil war, thus it is pertinent to ask why the lack of courage in giving honour unto whom honour is due? Or is it a case of a prophet is without honour save in his on land? In the words of Edith Cavell, 'I realize that patriotism is not enough, I must have no hatred towards anyone", though the sporting Icon has been labeled a COURAGEOUS COWARD by the former President Obasanjo in his book 'NZEOGWU', Mohammed Alli's refusal to honour a national call in the Vietnamese war has never diminished his legendary status, in fact he was specially honored to light the Atlanta '96 centennial Olympic touch and also had his 1960 Rome Olympic Gold medal thrown away symbolically restored by the IOC. A lesson in taking care of Sporting legends. It would be ideal to name the nations noblest monument of sporting prowess – the Abuja National Stadium after this sporting icon, and that to me will be a perfect way of honouring this departed champion by symbolically hosting the Commonwealth Games in a stadium named after the nation's first Commonwealth Champion, It is better late than never!
Permit me to state that if this shabby treatment is not adequately redressed, for justice must be done and seen to be done, nothing on earth can wipe away or suppressed the unique golden sporting achievement of Emmanuel Ifeajuna and subsequent place in the annals of Nigeria Sports-the renaming of Abuja Stadium after Ifeajuna will not make Ifeajuna but vice versa of Nigerian Sports.
Ditto for the honour bestowed on the World Golden Eaglets as you christened the Sebastian Brodericks-Imasuen tutored Under-17 boys national soccer team after the historic triumph in Beijing in 1985, your promise to them as the then Military Head of State was not honoured by successive administration till you fulfilled the promise on Thursday 21st January 2016 after 3 decades of being a mount of promise till it became mount of fulfillment.
Mr President, the best way to stop the spread of injustice is to challenge it when it is done on someone else. Please name the Abuja National Stadium after EMMANUEL ARINZE IFEAJUNA.
QED!!
Opeyemi Ajala FCA
Former Sports Presenter - Eagles Sports Hour on Eagle Cable Television, Ikeja, Lagos
Disclaimer:

"The views/contents expressed in this article are the sole responsibility of the author(s) and do not necessarily reflect those of The Nigerian Voice. The Nigerian Voice will not be responsible or liable for any inaccurate or incorrect statements contained in this article."