Unakalamba Eulogises Madumere On Integrity Award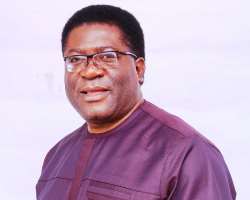 As accolades have continued to flow for the Deputy Governor of Imo State, Prince Eze Madumere on his recent well deserved recognition as the 'Integrity Man of Year Award', Chief Ambrose Unakalamba has described the recent award as well deserving.
Chief Unakalamba in his assessment of leadership in the country, stressed that integrity is the bane of Nigerian development, attributing failures in strict adherence to constitution, constitutionalism and policy thrusts to lack of integrity on the part of the rulers.
Chief Unakalamba, former oil worker in the Nigerian apex oil exploration regulatory firm, business mogul and politician remarked that Prince Madumere has been consistent in his avowed principle to maintain the highest level of nobility and integrity.
He encouraged him to continue in his chosen path of honour, especially in his sincerity of purpose, honesty and high moral principles.
He therefore hailed Christian Journalists under the aegis of National Association of Christian Journalists (NACJ) for rewarding and celebrating Integrity and good sense of decency in governance, submitting that such character is in earnestly being sought by the good people of Imo State.