African Athletics Senior Championship Competition: Asagba Assures Of Peaceful Environment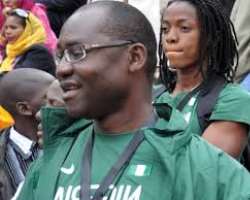 Ahead of the African Athletics Senior Championship Competition to be hosted by the Delta State government in August this year, at the Stephen Keshi Stadium in Asaba, Oshimili South local government area, the Asagba of Asaba, Obi (Prof) Chike Edozien, has assured that before, during and after the competition, peace would reign.
The Asagba, gave the assurance Tuesday when the Chairman, Sub Committee on Security, Commodore Omatseye Nesiama led other members of the Committee on a courtesy visit to the palace of the reverend monarch.
The representative of the Asagba, the Iyase of Asaba, Chief P.I.G Onyeobi, flanked by other Chiefs in the palace, assured the Committee and other participants of adequate security in the state capital.
The Asagba said in any way the Committee would need the help of the palace, it would be granted as the forthcoming game would not only witness success but also attract investors to Asaba.
Earlier, chairman of the Committee, Commodore Omatseye Nesiama, revealed that they choose to visit the palace following the effectiveness of the traditional institution in Asaba.
"We have also come here because we also understand that the traditional institution has made Asaba, relatively peaceful than many other cities in Delta State", describing their coming to the palace as a partnership that would work.
He noted that the Committee has believed in all-inclusive security architecture, "we believe that security is every ones business and everybody will participate in it. Especially with the emerging threat in and around us, we will not want a situation where Asaba will be tagged as a city that hosted an event that has security issues".
He pleaded with the palace to accept whatever inconveniences that may come with the event, "we know that in the course of this exercise, there might be some little inconveniences based on the security arrangement, we also want to use this opportunity to solicit your support and endorsement because we will not do anything that will inflict pains on members of the public but we want everybody to understand where we are coming from and the easiest way to pass this information on is not just through the social media, print or electronic media but through the traditional means of relaying information to the homes".
He added that the local vigilante would also be harnessed to ensure security during the event, "so we will want to plead with you that you give us all the support that you can give, to make our work easier".
He used the medium to call on other security agencies to join hands with the Committee to ensure massive success of the competition.