Delta State: Oshimili South Council Chairman Charge Youths To Take Advantage of "Not Too Young To Run" Law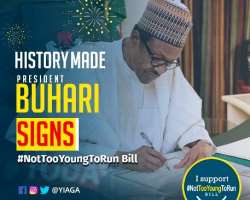 Nigerian youths have been charged to take advantage of the "Not Too Young To Run Law" signed by President Muhammadu Buhari.
The Chairman of Oshimili South Local Government Council, Hon. Uche Osadebe, in a statement signed by the Personal Assistant to the Chairman on Public Communications and New Media, Comr. Imalah Ugoachanum, the chairman charged youths to take advantage of the law by participating actively in Nigeria's politics.
Hon. Osadebe, who is a foremost student activist, former National Vice-President, National Association of Nigerian Students (NANS) and an advocate of youths in politics, said that the overwhelming support the youths and Nigerians gave to the bill from inception left the president with no other choice but to sign it into law".
"I am elated today that the 'Not Too Young To Run Bill' has been passed into law. It shows Nigerians are no longer passive in politics as they used to be in time past. The time to lead is now and I urge youths to take advantage of this opportunity to set Nigeria on a path of accelerated development", the Chairman stated.
While congratulating Nigerian youths on the passage of the bill into law, Hon. Osadebe noted that its passage by President Buhari, was a clear indication that Nigerian youths were not lazy.