....... AND I CRIED! (1)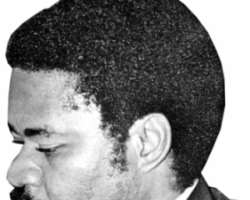 "To hear of a thousand deaths in war is terrible, and we 'know' that it is. But as it registers on our hearts, it is not more terrible than one death fully imagined."
~ Wendell Berry
"Any man's death diminishes me, because I am involved in mankind, and therefore never send to know for whom the bell tolls; it tolls for thee."
~ John Donne, Meditation XVII
Dateline: Kano City, October 19, 1986, 2055hrs. There was nothing exceptional about this particular day. Everything, as usual, looked ordinary. I sauntered on to the street to cross over to the apartment of my brother and friend, Prince Adewale Arimoro. The cars, private and commercial, moved without let or hindrance, but with utmost care, as they honked to call the attention of pedestrians milling along the sides of the road. There was brisk selling by the roadside petty traders who ignored the harmattan that was insistent on warning about its descent in few hours. Flickers of lamps of different kinds dotted the viewscape, imbuing the environment with a simple beauty that buoyed the illuminations of electricity.
As I was exiting onto the street, my aunt's voice, affectionately scolding me for not eating my dinner on time, echoed in my brain. She had been on me earlier on for the same reason while I finished reviewing an opinion piece for the Kano based TRIUMPH newspapers. My Aunt, who departed to the great beyond about seven months ago at age 96, got more upset when I insisted that I had to listen to the NTA Network news first.
The headlines were on as I stepped into Prince Arimoro's living room. It was short, succinct and shocking. It seemed to bounce off my ears like a ball thrown against the wall. I did not believe I caught whatever it was well. I was fixated on the spot where I stood. I didn't remember to sit down. I was befuddled and bewildered. Perplexed and disconcerted. It sounded as if the broadcast gave a maliciously shrieking blurt in announcing the news- "Dele Giwa is dead!
I am not sure now if I heard the remainders of the broadcast. But I could confirm that I could never and would never be able to remember any other news item on that night. I was stunned. Shocked. Numb for the first few seconds. Then, I broke down. Weeping silently. My head in my palms. I groaned like an exhausted log-carrying lorry at the mercy of a treacherous hill. Shaking violently, like a beheaded cock as tears cascaded down my cheek, I cried! Asking no one in particular, repeatedly - Why? Why? Why?
A couple of years back at Great Ife, Dele Giwa and Ray Ekpu had been invited to address the students. I don't remember under which auspices now. But the event took place at Móremí Hall. I remember very well that one of the issues discussed was the advent of "Benzy Journalists," and their impact on the ethics, values and well being/welfare of men of pen profession. Both men, fantastic writers, were not as equally gifted when it comes to verbal articulation. Ray Ekpu was drab, uninspiring and boring (no pun intended whatsoever) but nevertheless was equally brilliant and logical.
Dele Giwa sparkled. He shown like a star. He was relentlessly coruscating and dazzling. Glimmering. Glittering. Glinting. He was hypnotizingly articulate. He was engaging with his logic, dexterous in his explanations, ensnaring in his comprehension of the values and ethics of the vocation and was able to entrap the attention of the audience unceasingly throughout. He was very impressive.
Dele Giwa's death took a lot away from me. Emotionally. Psychologically. And professionally. I still don't know if I would ever get over it. My humanity was hurt. It drained from me a lot of my essence as a human being. It was devastating to me. It was very desolating.
The death of anyone, should be a source of serious concern to any human being. What has become inexplicable is how, one could be deeply affected by the death of those who are not members of your immediate or extended family? I guess it has to do with the irreplaceability of life. Its sanctity. Its supremacy over and above all inalienable rights of man.
The death of Idowu Samuel is taken by me in this context. It is another detraction from one's humanity. It is a sad occurrence. But John Donne (1572 - 1631), the father of "metaphysical poetry" helped to explain what a monumental loss the death of a fellow human being couldit better in the following lines:
"No man is an island entire or itself;
every man
is a piece of the continent,
a part of the main;
if a clod be washed away by the sea,
Europe is the less,
as well as if a promontory were,
as well as any manner of thy friends
or of thine own were;
any man's death death diminishes me,
because I am involved in mankind.
And therefore never send to know for whom the bell tools; it tolls for thee."
May the soul of Idowu Samuel rest in perfect peace. Amen.