EKITI 2018: Omonusi Emerges As ADP Deputy Governorship Candidate.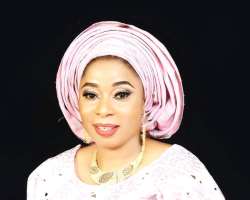 Action Democratic Party (ADP), has picked Honorable Anthonia Omonusi as the deputy governorship candidate of the party towards the forthcoming gubernatorial election on July 14th in Ekiti State.
Omonusi who hails from Omuo Ekiti, Ekiti East Local Government has both public and private sector experience, which compliments the outstanding profile of ADP governorship candidate, Otunba Segun Adewale, a renowned entrepreneur. She is 42 years.
Omonusi impressive resume saw her worked briefly at Omega Bank Plc, now Keystone Bank in 2002. Anthonia was in the service of Local Government Service Commission in 2010.
She was the Caretaker Chairperson of Ekiti East Local Government in 2012. She also served as the Caretaker Secretary to Ekiti East Local Government in 2013, after which she joined the public service as a Special Assistant to Ekiti Governor on Community Development in 2014.
Until her nomination as deputy governorship candidate of ADP, Omonusi was a member and chieftain of the All Progressive Congress (APC), before she joined ADP with thousands of her supporters across Ekiti State, Omonusi is humble, brilliant and charismatic in nature.
In her acceptance speech, she said "I have looked critically at the problems confronting our dear state and found that Otunba Segun Adewale-OSA has the best manifesto capable of solving the social Economic problems in our dear state". Aside him, no other candidate seems to have the plans he has for Ekiti transformation. I will rather stand with the true demcrats who identify with the masses than stand with the people who only care about their personal benefits who are only enticed to the exalted office for personal gains than the general benefits that accrue to our people as posterity will judge us all if we don't stand for the truth now.
She further expressed gratitude to Almighty God for guiding her to join ADP and to her supporters and Ekiti people who have stood by her side all through her political journey so far, asking the people of Ekiti state to massively join and vote for her party, the Action Democratic Party (ADP) at the polls.
Honorable Anthonia has perfected her membership with the ADP and satisfied all INEC requirements as the deputy governorship candidate.
She will now be paired as the running mate to the most popular and accepted candidate in Ekiti, Otunba Segun Adewale also known as OsaPraPra.