Suspending Rochas is not the best - Barr Chima Anozie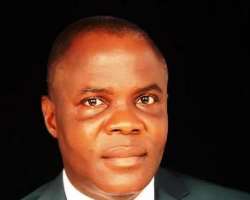 Barr Chima Anozie is a chieftain of the All Progressives Congress in Imo State and one of the gubernatorial aspirants in the forthcoming gubernatorial election. He speaks with our correspondent on some boiling issues in the Imo State chapter of the APC.
Sir, there are rumours that the ruling All Progressives Congress (APC) is set to suspend Governor Rochas Okorocha given allegations on anti-party and running of parallel leadership in the State chapter of the party. What is your is view?
I'm against such moves, though the projectors' reasons are legally correct given the stipulations of electoral laws, especially the APC Party Constitution, notably Article 21. But to suspend Rochas will create more problems for APC in Imo State than pose solutions. I believe in alternative dispute resolution and prefer it in this instance. Both factions are inevitable in Imo APC. There is in the history of the party politics, no column without Rochas. That's the simple truth!
But, how do see such move, is it good?
No, not at all! Rochas is like a builder or house owner who built an attractive good mansion, furnished it, and decorated everywhere. When he wants to travel, he locked up the main door and left a window open. On coming back, he found other occupants who felt they contributed in building the house. As he opened the door to know what was really happening, he discovered that it is so occupied that coming in for comfort, there is no space to stay.
There are today varied opinions on what caused the rifts in Imo APC. Some say Uche Nwosu, some say Henry Okafor, others say the Governor himself; some allege the Governor's wife, and some attribute the strength of the Coalition to the professional mistake of the Governor's CPS, especially his ad hominem packed unto some members of the Coalition. What do think sir?
There are possible truths in these and in some unsaid factors. But you see, the aggregate of the crises is on Uche Nwosu. On his person and for his sake, centres the series of crises rocking Imo APC, because the Governor, who is his father-in-law, endorsed him. Of a truth, legally he is qualified to contest for the governorship, but equitably he is not, given the zoning and equity charter in the State, which has the Orlu zone from where Uche Nwosu comes, ruled Imo since 1999 for 16 years, Okigwe zone for 4 years and Owerri zone for zero year. Giving Uche Nwosu Governor from this reality means giving same Orlu zone another 4 or 8 years onto the 16 years it has stayed in power. That is where 'E-eh wu daa' comes in for Owerri zone. It is not fair and that is where the Coalition and other aggrieved persons come in, and coupled with the issue of the Governor's alleged declaration that Uche Nwosu is the only qualified person to replace him. All see this as unpardonable calculated insult for Imo APC chieftains.
So, where did Rochas go wrong in Imo APC?
It is on Uche Nwosu. As a person, he is right and free to support or endorse anybody, son-in-law or not. But as the Governor of the State and apex party leader, what he ought to do was first, to ensure level-playing ground for all aspirants. Rochas came out fully to endorse Uche Nwosu and besides, publicly, and the endorsement came very early. Early ambition kills ambition. Gov Okorocha should have allowed other aspirants to contest and try their luck, and if he dearly needs to support his in-law, it should have been later and secretly, covert and not overt. He opened up so early his backing for specific candidates for different elective positions. This rocked others and provoked animosity.
Now Imo is tensed up, APC is boiling; the party lacks peace and cohesion. The party members lack security, etc. Again, other people from other States use Imo APC to make money, the money that is supposed to be used to develop the State, is used up in APC struggles because of ego tussle that has been set up.
Again Sir, don't you see the delegates' lists and mock primaries as other factors that fuelled these crises outside what we've noted so far?
Yes, but the delegates' list is joined to the former causes as means of their realisation. Mock primary like endorsement of candidates is unconstitutional, and the idea was sold to the Governor by his aides and advisers, seeking relevance and to impress the Governor as being creative, but in actual sense they lack perspective insights on ripple and reactive effects of such advices on human management. We all followed Gov Okorocha, enjoyed his ideas and decisions to abolish godfatherism in the State. He preached against and rejected godfathers in the State, and unknowingly he has gradually fallen deep into the godfathers' zone and politics that he priory had aversions for. And that is what is killing Imo APC today. But the Governor was very much against it before. His aides and advisers forgot that every leader has principles and line of thought that make for his leadership programme, and should be advised in the same purview and leadership principles.
Mock primaries are sponsored and nepotistic, a level-playing ground should be allowed for all the contestants or aspirants, because the main issue is not winning the primaries but winning the main election, as many winners of party primaries, contest for the main election and lose out. The reasons for their failures are sometimes associated to the processes that brought them, when the processes were not all encompassing and empathically coercive to ensure synergy after primaries, backbiting and betrayals are last resort for such politicians, given the prevalent 'winner wins all and loser loses all' in Nigerian politics.
But, it is better you lose election and your co-party opponent wins than another opponent from opposition party wins the election. It is better a co-party contestant wins the primaries than you manipulate to win the primaries and are won in the main election, it is painful because aggrieved persons may join your opponents to fight back. It is also better you lose election at the primaries than you win it and lose the main election when virtually all party members bank on you for survival. I am of the school of thought, "win, you forget; lose, you forget. And we lose to learn."
So what should be done now, given these realities?
I don't like what is happening in the party now. We are running a parallel party. Now there is no difference between PDP or APGA and APC. To survive, we must close all ranks and this is the time. I know there are people benefitting from these crises and they will not be happy that peace returns in the party. Even within APC as a party, there are such people. We must come together as one family for the interest of the party because we cannot afford to be in opposition.
But this recent issue of Agburu Anyi, how did it come?
My dear, it all started December last year. Rochas began his good and all-carrying leadership with 'Imo mu-e-eh!' and with 'My people, my people!' And he was the people's Governor and the party's beloved leader. He started having problems when he began saying "Agburu anyi!" This started in his house at Okpoko when we went to celebrate Christmas with him.
God called "Rochas, Rochas!" He answered, "Yes Lord!" And God ordered him to "lead my people!" And God and his peace were with him as he carried all Imolites along. But now, he has turned segregative, and has his own 'agburu' outside God's people, he previously called 'Imo Mu-eh!'
God knows about what is happening in Imo APC, and is patiently waiting for his servant-Governor to do the rightful and with clean hands, because who goes to equity must go with clean hands. God is patiently waiting, and I pray He doesn't lose His patience and finally writes with His finger on the wall. Of a truth, Gov Okorocha did great in the State and deserves accolades and ovations from Imo APC and Imolites. He must listen to the voice of justice and equity, the unconditional love of the Father that had led him all these years, beginning with his emergence which was miraculous, for Imo 2019 is Owerri zone's turn and he can't thwart it. It is ordained behind the clouds. If we don't get it now from whom God ordered to lead his people, when shall we get it? Will God be happy with him, and make his kingdom and legacies last? It's time for him to change!