Lopsidedness in the appointment of security chiefs in the country needs review: Osinbajo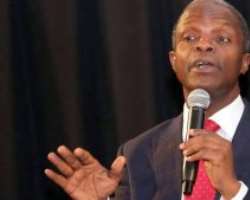 VICE President Yemi Osinbajo has said the lopsidedness in the appointment of security chiefs in the country needs an urgent review in order to pacify some aggrieved sections of the country and to bring out more efficiency in their operations.
The appointment of most of the service chiefs from the North is on key issue for which President Muhammadu Buhari's administration has faced criticism. Southeast geopolitical zone particularly has complained loudly about their exclusion from the exclusive top tier of Nigerian security apparatchik.
Under the incumbent administration, the army chief, Lt. Gen Tukur Buratai, the Air Chief, Air Marshal Sadique Abubakar, the Inspector General of Police, the Director General of Department of State Security, are all from the North.
Osinbajo spoke in Osogbo, the Osun State capital, on Friday in his remarks at the Greater Nigeria Pastors' Conference.
The Vice President also advocated community policing in order to make response  to emergency situations  quicker  so as to curb the killings in different parts of the country.
Osinbajo, who said it was not true to claim that the killings in some parts of the country were targeted at only Christians, said the blood thirsty hoodlums had attacked mosques as well and had also killed many in Muslim communities especially in Zamfara State.
He said, "There is a big challenge. Sometimes, it is not always as it seems. When I went to Benue, I mentioned to them that any attack on churches is sacrilegious and it should be condemned. I was probably one of the few persons that spoke about it. Let's put it in a context, we must not assume this is an isolated case.
"Deeper Life Bible Church was attacked in the North in 2014 and 17 people were killed. Whatever is happening, we must take a broader look at it. As pastors, when mosques are attacked, we must also speak up. It is good that we also speak up against this as well.
"I agree fully as far as security issues go that we should have a broader approach. There is no reason why there should not be a review. The President ( Muhammadu Buhari) had said he would address it."
The Vice President said Nigeria could be easily plunged into another round of civil war if the issue of herdsmen killings was not handled with great care and wisdom.
He urged Nigerians to stop reading religious and ethnic meanings to the killings, saying the criminals shedding the blood of the innocent citizens were not discriminatory in their approach.
Osinbajo said, "We must not allow the narratives being said about it to survive. We have to handle it carefully, we may put the country in a civil war if care is not taken. When former President Obasanjo was in office, almost 12 states declared Sharia law. What did Obasanjo do about it. He could not have done more than he did.
"Many of the governors of those states then were Muslims. Can you imagine if 12 state governors declare Sharia Law now that we have a President, who is a Muslim? We must put everything going on in the country in context. I am in a position of getting some information that many are not privileged to get."
He added, "Our country can only be governed by the wisdom of God. We must deal with all issues with great care.  In River Benue, virtually all the cattle want to go in there for water. In Taraba, the killer herdsmen and farmers they attacked are Muslims. It is not entirely fair to say that they are targeting Christians. Any herder found with weapon must be arrested. In the last few months, we have sent special forces to Benue and and Taraba. There is great determination to end the killings and hold accountable anybody arrested."
Osinbajo expressed the confidence that Leah Sharibu, the only girl who is still being held captive by the Boko Haram, would be released very soon because negotiations were still ongoing on her release.
"There were two factions of Boko Haram. The one led by Shekau and the other group. When they were kidnapped, we have to negotiate on all platforms, both local and international, to ensure their release.
"The same government brought back 120 Chibok girls, mostly Christians by a President that is a Muslim. The rescued girls are now in American school, in Abuja. We are negotiating daily for about 80 Chibok girls still in captivity. I am constantly in touch with the negotiations."
Source: The Punch with additional input by The Rainbow