Dangote Foundation Distributes 150 Million Food Items to IDPs, LessPrivilege in Borno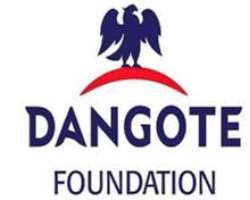 Governor Kashim Shettima has flagged of the distribution of Dangote Ramandan Kareem Worth one hundred and fifty million naira to the Internally displaced persons IDPs and other less privileged members of the host community yesterday Monday.
The occasion took place at the Government House premises with the beneficiaries in attendance.
In his remarks Governor Kashim Shettima praised the President of Dangote Foundation, Alhaji Aliko Dangote for his generosity and support to the people of the state.
He also said that in addition to the food items Dangote donated for the IDPs and less privileged during the Ramadan period, Alhaji Aliko Dangote had supported the State with building materials worth one billion naira that was used in constructing the Dangote village along Bama Road which was billed for commissioning or inauguration on 18th June 2018.
The representative of the Dangote Foundation, Alhaji Musa Bala disclosed that the President of Dangote Group of Companies, Aliko Dangote was making the donation in the spirit of Ramadan Kareem to the less privileged members of the society especially those affected by the activities of the boko haram insurgents in the month of Ramadan Fast.
He also commended Governor Kashim Shettima for his relentless support and cooperation to the activities of the foundation while urging for the judicious distribution of the food and non food items that have been donated by the foundation.
The SEMA Executive Chairperson Hajiya Yabawa kolo was full of appreciation to the Dangote Foundation for always coming to the aid of the people of the state during Ramadan period and equally thanked Governor Kashim Shettima for his support SEMA.