132 Boko Haram Terrorists Surrender to Nigerian Military in Borno...
As Theater Commander Parades 5 Out of 17 Boko Haram Terrorists That Willingly Surrendered in Kala Balge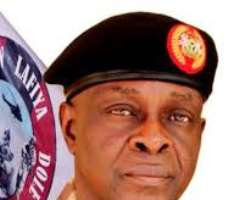 Major General Rogers Nicholas
Theater Commander, Operation Lafiya Dole, Theater Command Headquarters, Maimalari Cantonment Maiduguri, Major General Rogers Nicholas has said that within the last few weeks, about 132 Boko Haram Terrorists voluntarily surrendered to the Nigerian Armed forces on their own in Bama, Monguno, Maka Balge, Damboa and Kumshe axis.
He also appealed to those BHTs who were yet to willingly surrender to the Nigerian military to do so freely at their own time by surrendering their weapons and arms to the nearest military camps and formations closer to them.
Parading fresh set of 5 BHTs out of the 17 that recently willingly surrendered to the military at kala balge and kumshe area Monday at the headquarters of the Theater Command of Operation Lafiya Dole, the theater Commander added that the Nigerian military windows were opened anytime for the BHTswho wants to surrender on their own without any problem.
He further disputed the speculations making the round that Nigerian military were rather killing BHTs that surrendered instead of taking care of them , arguing that, rather the military have been applying the Human Rights laws at international standard providing medical and welfare services to those that earlier surrendered.
General Nicholas said hundreds of BHTs have voluntarily surrendered one their own while others were arrested and have been undergoing medical treatment, rehabilitation and deradicalization process peacefully and smoothly before they would be reunited with their families and relations after being handed over to the government.
He assured that the military will continue it's operations and its doors are opene to welcome any BHT that will surrender on his or her own to the security for medical treatment, rehabilitation, deradicalization and reintegration while appealing for more BHTs to surrender to the military
One of the BHTs that spoke to the journalists, Hassan Dahiru said initially they were forcefully conscripted into the BHT group and now realized that the activities of the BHTs were not Islamic and against the religion of Islam by all ramifications.
Dahiru added that they highly regretted in participating in the killings and destructions carried out by the BHTs against innocent people, pointing out that, what the BHTs did were cruel and inhumane against humanity.
According to him, the only thing they want now was God to forgive them and thanked God that the security agencies and President Buhari have given them the window to willingly surrender with assurances that they are now enjoying.
He said their life has changed completely and prayed they will never return to such devilish act while calling on their former mates and group members to come out and surrender too and enjoy a better life.
Hassan described life with BHTs group as hell and falsehood against religion and humanity while appreciating the security forces and government.