Man who killed Aunt Begs Delta Governor For Pardon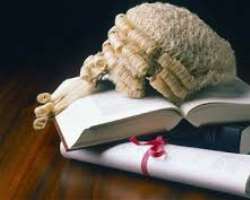 A 41 year old man, Dele Mokwunye who was previously sentenced to death by hanging by Justice Anthony Akpovi of Ogwashi -Uku High Court in 2006 is begging the incumbent governor of Delta State, Mr Ifeanyi Okowa, for a State pardon as he now regrets his actions.
The convict, whose death sentence has been commuted by the former Governor of the State, Dr. Emmanuel Uduaghan in 2010, is currently serving his jail term at the Onitsha Prison.
Mokwunye, a native of Idumuje-Unor, Aniocha North Local Government Area of Delta State was 24 years old in 2002 when he brutally murdered his childless aunty with whom he was residing with at the time.
He butchered the aunt with a cutlass on suspicion that she was using witchcraft powers to hinder his progress.
His biological father, who has since passed on, was one of the prosecuting witnesses fielded by the State that gave evidence against him.
He begged the Chairman of the Delta state Advisory Council on the Prerogative of Mercy, Chief Patrick Okpakpor who led other members of the Council to the Onitsha Prison as part of their statutory duties for total pardon as according to him, the homicide action was a mistake and a "temptation".
Chief Okpakpor told convicts transferred to the Onitsha and Awka prisons from Delta state where members of the Council visited on Thursday, that the Council lacks the power to order release of inmates from custody.
He further explained that such power to order the release of inmates from prison custody only resides with the Governor as enshrined in section 212 of the 1999 constitution (as amended).
Chief Okpakpor also explained that the quarterly prison visitation exercise of the Council was not only restricted to Prisons within Delta State but to such other prisons across the Federation where indigenes and none indigenes alike, convicted by Delta State High Court are serving their terms of imprisonment.
The team pleaded with authorities of the Awka Prisons to consider the transfer of the three inmates of Delta state origin to Onitsha Prison or back to Warri prison to enable them have access to their family members.
Chief Okpakpor described Governor Ifeanyi Okowa as a true humanist and emphasized that the governor considers every individual in Delta State important, their incarceration notwithstanding, adding that he will continue to reach out to them no matter where they are.
The other members of the Council who were part of the exercise include the Secretary, Barr. Mrs. Uju Monye, Honourable Kress Njukwuomeni, a former majority Leader of the state House of Assembly, Honourable Irene Imilar, a two tern former member of the state House of Assembly representing Warri North, Dr. Samuel Efetobor, Barr John Okiroko and CSP Paulina Egbon of the Nigeria Prison.