Rochas Is Due For Expulsion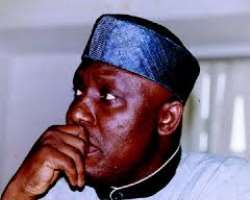 The British legal luminary, Jeremy Bentham, once heated the legal world and jurisprudence with the argument on obligation to obey the law- Is there any obligation to obey the law? Non-jurists, see in ordinary situations whereby anyone does what he or she likes and defiles the law as above the law, but this is not so with party politics, where sanctions are stipulated in the Party Constitution. Political parties produce the leaders of the society- The Executive and Legislative Arms of Government, and as such must be the first to obey the law to the last letter. All defilers must be punished.
Nobody is above the law, and Imo APC case would not be an exception. The All Progressives Congress (APC) in Imo State has for some months now suffered series of 'above the law attitudes' from its apex leader, Governor Rochas Okorocha. Governor Okorocha believes in Machiavellian principles and is a product of George Orwell's "all animals are equal but some are more equal than others." The immunity clause protecting him from civil reactions and legal battles against his leadership, as a Governor, seems to swell his head.
There are series of Court rules, Court orders, injunctions and judgments that the Above the Law Governor vowed never to obey, hiding under the aegis of immunity clause. But of recent, he mocked himself and ran to the Law Court that he has no penchant for, when he discovered that as a conceited rooster the Coalition of Allied Forces of Imo APC has winked him off like a brutal eagle for afternoon diet. How many Court rules has his government obeyed since 2011?
An Imo legal luminary and social critic once listed out so many instances of the Governor's counter-positions to obey the law. He has strong aversions for orderliness, due process and adherence to stipulated and standing rules. Workers are allegedly engaged and sacked without due process. Pensioners are owed their pensions and gratuities against labour laws. People's houses and landed properties are allegedly demolished and grabbed without due adherence to standing rules and orders on such. Contracts are allegedly awarded without due processes for such. Appointees are suspended and sacked without due process, just as anti-peoples projects are embarked upon as vendetta.
These contradict the ruling party's (APC) Constitutional stipulations, especially Article 9(2) i, which states that "members of the Party shall be obligated to affirm the Party's aims and objectives and conduct themselves in a manner that shall not bring the party to public odium and disrepute." Such programmes as Governor Okorocha is doing in Imo State today are dragging the image of the APC to the dirtiest mire.
The APC Constitution, Article 20(i) explicitly stated that "All Party posts prescribed or implied by this Constitution shall be filled by democratically conducted elections at the respective National Convention or Congress subject, where possible, to consensus. Provided that where a Candidate has emerged by consensus for an elective position, a vote of 'yes' or 'no' should be called for, to ensure that it was not an imposition which could breed discontent and crisis."
This constitutional stipulation has been transgressed by Governor Okorocha on Tuesday May 23, 2011 when he acted in usurpation, the duties of the State Congress Committee, and elected a parallel Imo APC State Party Chairman, and decreed him the Acting State Chairman of Imo APC. Of a truth, this act of Gov Okorocha is a dirty slap on the APC Constitution.
The Article 12(6) of the Party Constitution stated that there shall be a State Congress consisting of: The members of the BoT from the State, State Chairman and members of the State Executive Committee, the Governor and Deputy Governor who are members of the Party, the Party's House of Assembly members, all members of NEC from the State, all the Party members who are past or present NAS members, and all LGA Chairmen and Vice who are the Party members.
More so, Article 13(6) ii, of same APC Constitution also stated that the State Congress shall "Elect officers of the State Executive Committee." One would ask, were at least, half of these requirements fulfilled before Rochas embarked on his parallel leadership initiation in Imo APC, which is a sly on the Constitution? What do the APC national leadership call Gov Okorocha's actions? How can a legitimate State Congress produce a State Party Chairman and Vice Chairman, who are healthy, disposed and not absent, (and are working) and then the Governor nominates an Acting State Party Chairman? What is Governor Okorocha's Acting Party Chairman, acting for, and for who and which purpose?
This Acting Party Chairman, Hon Chris Oguomah, is now in charge of selling forms for the proposed LGAs and Wards elections in the State, which the Governor meant to generate 624 Councillors (from the 624 Autonomous Communities in the State than the 305 Wards) and 27 LG Chairmen, making it 651 voters for the party primaries ahead, to the disadvantage of level-play ground politics for other gubernatorial aspirants in Imo APC. Why would they always revolt against him and his selfish gimmicks?
How can there be an elected State Party Chairman and an Acting Chairman is nominated to play the party roles meant for the legitimate State Party Chairman? Is Gov Okorocha not running parallel State Party Chairmanship in Imo State, against the APC Constitution, Article 21(A) vi, which declared such as transgression, running such parallel leadership?
Is the illegal Chairman produced as a fruit of an Ad-Hoc Committee which the Article 18 of the APC Constitution speaks of or was he appointed because a vote of no confidence is passed on Chief Hilary Ekeh, with two-thirds or members of the relevant party organ as in Article 17 (v-vi)? If he is, then Gov Okorocha has assumed the powers of the APC NEC to constitute ad-hoc committee(s), and therein deliberately set up a parallel committee that the Party Constitution (Article 18, iv) declared that "Where the NEC has set up a standing Ad-hoc Committee(s) or has assumed jurisdiction on any issue, no Organ of the Party shall deliberate upon and or set up a similar or parallel Committee." And this contravention is liable for punitive sanctions- Party suspension or Expulsion.
Given the above intentional transgressions against APC Constitution, Angelo J Corlett recalls for the Imo APC that "there is a prima facie legal obligation to obey the law because the law is the law and it ought to be obeyed except in circumstance where the law permits disobedience." In this instance of the APC Constitution, the law permits no disobedience, which justifies Governor Okorocha's tyrannical defiance.
When the historic English jurists- Thomas Hobbes, Jeremy Bentham and John Austin urged that 'a command requires an expression of will together with an attached risk, however small, of suffering an evil for non-compliance," they prefigured such instances as regularly embarked upon by the Above the Law Governor, Rochas Okorocha. And as such it's time to revoke Hans Kelsen's view on coercive act for legal obligation, that "Legal obligation is not, or not immediately, the behavior that ought to be. Only the coercive act, functioning as a sanction, ought to be." Let Rochas be sanctioned accordingly, if not, more Governors will embark on this madness, and it will be like the stealing of the Mace that is gradually becoming amoral in Nigerian legislature.
Disclaimer:

"The views/contents expressed in this article are the sole responsibility of the author(s) and do not necessarily reflect those of The Nigerian Voice. The Nigerian Voice will not be responsible or liable for any inaccurate or incorrect statements contained in this article."