AL-MUSTAPHA'S WIFE: I GO THROUGH HELL TO SEE MY HUSBAND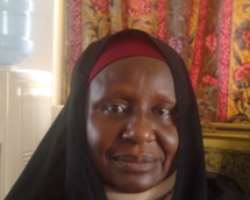 It has been 12 years since Major Hamza Al-Mustapha, former Chief Security Officer (CSO), to late Head of State, General Sani Abacha, was arrested and put on trial along with other military and police officers for alleged murder of late Kudirat Abiola, Pa Alfred Rewane and the attempted murder of Chief Alex Ibru . Hajiya Hafsat Al-Mustapha, wife of Al-Mustapha, spoke on how life has been without their breadwinner. Excerpts: Weekly Trust: It has been 12 years since your husband was arrested and detained. How has life been? Hafsat Al-Mustapha : Alhamdulillah. I do not know how to describe it, but it has been horrible. And I do not think I will like any woman to experience what we have experienced in the past 12 years. You can imagine, a woman whose husband has been taken away for 12 years. Every responsibility that was shouldered by the husband is automatically shifted on her. He was taken away from us when the kids were little and the last child then was seven. These kids have been subjecting me to series of questions and I will always tell them that he is on one course or the other and even when I tell them that, they insist on why he does not call and all sorts of questions.
WT: Your kids do not read or hear about their father in the media?
Hajiya Hafsat: No, I tried to shield them from having access to the media where they will hear such news until they come of age where they will understand what really happened to their father. I did this because I know it will be traumatic for them at that tender age. I had to do all I could to protect them and not distract them from their studies. Now that they are grown up, they know the truth but the questions are still there as they keep asking what sort of justice we practice in this country because they see that some people who were arrested with their father had been released.
WT: Are you allowed access to your husband?
Hajiya Hafsat : Yes, but with stringent conditions. I saw him last two months ago. When I go to see him, I am always subjected to all kinds of scrutiny. For the past the 12 years that he has been there, every time I go to see him, I am made to fill a form with two passports and asked to come to the gate by 8am but will not be attended to until around 11-12pm. The terms there are quite stringent and when we are finally allowed to see them, it is not more than an hour.  Sometimes when the wardens take us there, we are shouted upon. Our bags and bodies are searched before we can see them. We go through hell.
Then when I finally get to see him, he is in a pathetic state of health. I could not bear it and had to leave Kirikiri in tears.
WT: During your visits, was he able to relate what they go through where they are kept?
Hajiya Hafsat: He is a very compassionate person and he does not want me to be worried, so he tries to assure me that everything is okay by hiding the pain he is going through, but he is my husband and I know when things are not okay with him. But there was a day that he told me that they were living in terrible conditions and he would not wish anybody to come to this place. I also try to hide whatever problems we are facing from him so as not to add more pain to what he already is going through. As you can see, I'm not too well but I have to be strong to speak to you.
WT: It was reported some time back that your mother in-law was sick…
Hajiya Hafsat: You can imagine a woman who lost her husband not too long and her son was brought for trial during one of those periods and it was again adjourned. This woman is old and is always asking to see her son. Of course, all her thoughts are on the day her son will be released. She was very sick and was diagnosed with a cardiac ailment.
We are virtually living hand-to-mouth but we thank God for the little things we can still do to make ends meet and for the good hearts we have around us.
The papers are telling us stories everyday and we know what is happening in the court as even the press are not allowed to go into the court and even if they go, they are not allowed to report what they have seen. In all sincerity, there is no fairness in this trial that has taken several years.
WT: Have his friends and colleagues been supportive of the family since his absence?
Hajiya Hafsat: We have a proverb in Hausa that says 'bakin da Allah Ya tsaga ba zai hana shi abinci ba' which means the 'the mouth that God has made, He will never deny it food'. Of course, we have good people around that I never thought will be the ones supporting us today, but some of the people we thought we called and had as friends, today are nowhere to be seen. Now, I believe when they say it is in your most trying periods you will know who your friends really are.
WT: Have the kids ever visited their father?
Hajiya Hafsat: It is a traumatic experience going there with them, which is why I hardly do that. I prefer to go alone because it always tells on them. Whenever they go, their heads are always bowed and they just cry all through. What is on their minds, I do not know. They just cry until our time is up.
My son was in school one day when a boy accosted and told him that his father was a convict. My son then told him to stop it and even told him not to talk to him, but you know kids being who they are, the boy kept repeating it and eventually they had a fight and at the end of the day when the case was investigated by the school authorities, the boy in question was suspended. But the father of the boy came to me and pleaded that he was very sorry for whatever his son must have caused my son. So, you see they have actually had their own share of the whole thing.
WT: Can you remember exactly where you were when news of your husband's arrest came?
Hajiya Hafsat: I was in the school with the kids and someone called and told me that there were armoured tanks and vehicles about 20 in number that have surrounded our house in Kano. My husband was in Enugu then. I tried to call him but it was not going through and then I asked the person who called me what was happening and he said it was like a war going on there as they came fully armed. Eventually, I was called again that my husband was with them and he was in handcuffs. Then I decided to leave for Kano but my sister advised otherwise because it was already about 9pm. The following morning, I was informed that he has been taken to Nguru. From there I lost track of his whereabouts for six months.
But I'm hopeful that the current President will keep to his promise of ruling with the fear of God. And I am pleading in the name of God, that he releases them. This is my prayer, as we have gone through hell and I'm begging that it should be put to an end.