Hon Eke Urges Fg To Construct Security Fencing At Sam Mbakwe Int'l  Cargo Airport & Others.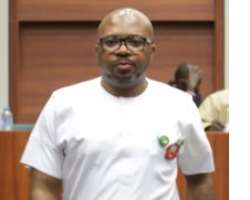 Hon Bede Uchenna Eke, a member of the House of Representatives from Aboh Mbaise/ Ngor Okpala Federal constituency, Imo state has called on the Federal government to construct security fencing at Sam Mbakwe International Cargo Airport and other airports in the country.
The lawmaker stated this on Tuesday in Abuja during his motion at the floor of the house where he frowned at the porous nature of Sam. Mbakwe Airport as well as other airports in Nigeria, invoking security concerns. He stressed that lack of security fencing at the airports is providing easy access for the activities of hoodlums, criminals and other security challenges.
Hon Eke also drew the attention of the house on the rampant cases of stray animals and human beings on the runaways at Sam Mbakwe Airport which recently would have caused a misharp was it not for the grace of God and an experienced pilot.
The Hon member citied annex 17 of International Civil Aviation standard procedures where it stated that every airport is supposed to be protected with security fencing and not perimeter facing as the case in Nigeria.
He opined that the unsecure nature of airports makes it difficult for the security men to properly guide the airports.
On that note, the House of Reps mandated the Federal ministry of Aviation to construct a security fence at the Sam Mbakwe International Airport, Owerri, Imo State and other Airports across the country.
In the same vain, the house also directed the committee on Aviation and Legislative Compliance to do the total follow up to ensure that security facing are constructed