Democratic Coup ... How Governor Okorocha Lost Out in APC Congresses and Power Game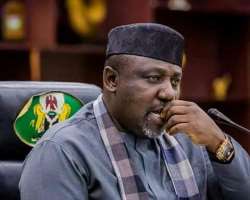 After a successful conduct of Ward and LGA Congresses of the Imo State chapter of the All Progressive Congress, and subsequent upheld of the exercise by the party's electoral appeal panel and by extension the National Working Committee, NWC of the party. Imo State Governor, Chief Rochas Anayo Ethelbert Okorocha who was completely schemed out in the exercise by a powerful Imo APC stakeholder coalition, led by Senator Ifeanyi Araraume, Senator Osita Izunaso, Senator Benjamin Uwajumogu, Chief Tony Chukwu, Chief Uzoma Obiyor, Hon Emeka Nwajiuba, Hon Jasper Azuatalam, Prince Eze Madumere, Sir Jude Ejiogu, Hon TOE Ekechi, Hon Longers Anyanwu, and many others. The Imo Governor became apprehensive of his political future and fate, especially as regards his determination to install his Son-in-law, Uche Nwosu as the candidate of the party and by extension the Governor of Imo State come May 29, 2019, while himself return to the National Assembly as Senator representing the twelve LGAs of Orlu Zone.
Worried that all his protests , petitions and demonstrations against the hijack of the APC structure in Imo State by those he referred to as ingrates fell on the deaf ears, the lookwarm altitude of President, Muhammadu Buhari, Vice president Prof OSINBAJO, Leader of APC Senator Bola Ahmed Tinubu, Secretary to the Federal Government, the Chairman of All Progressive Congress, Chief John Oyegun and members of the National Working Committee,etc, Governor Okorocha returned to Owerri, the Imo State capital to seek for self help.
With plan to stop Saturday May 19th scheduled State Congress of the ruling All Progressives Congress which will produce the State Working Committee of the APC and possibly replace his former political 'boy', Chief Hillary Ekeh now turned man and his albatross , Governor Okorocha first enlisted the support of Ohaji-Egbema /Oguta ex-militants he was alleged to have granted amnesty as a decoy to achieve political gains. Assured of maximum corporation; as a powerful force of coercion or intimidation against any opposition to his plan. Maximising the power of his office, as Imo chief executive with enormous power and access to state treasury, a court injunction was secured by 4:30pm Friday evening, and a no gathering and movement order by the Imo State Police Command issued . Okorocha's foot soldiers went to town celebrating, "who born monkey" . "I am in charge the Governor boasted" .
On Friday evening, around 5pm, his nemesis; Imo APC Stakeholders coalition all returned to Imo State with a chartered Aircraft that landed at Imo Airport, followed by another aircraft carrying State Congress Electoral Committee, INEC Observers from Commission head office Abuja, Police Officers from Force headquarters Abuja and DSS, they all went straight to a hotel in Owerri waiting for Saturday May 19 for the scheduled conduct of the APC State Congresses across the Federation.
On the fateful day, while the Abuja Coalition used the night to brainstorm and strategies on how to overun the Governor with full compliments of State apparatus, Governor Okorocha was busy mobilising his thugs, and and State Security architecture to deal with any body who challenges his authority.
Imo State police command deployed trucks of Police van and personnel to the Imo State University junction state Secretariat of the party burnt few days before as a way to stop the Abuja group not to access the facility for the state congress. The Police Public Relations officer through a press statement warned the good people of Imo State of the danger of coming out on the said day for any form of gathering or assembly in the name of party congresses , coupled with a court order to be served within 48hrs of issue.
In order to evade services and avoid disobedience of the court order while keeping to the rules of engagement as stipulated in party's constitution and extant laws, the Imo APC Stakeholders coalition mobilised their members and delegates from the 27 LGAs of the State and proceed to the venue for the state congress in observance to the law. Between the hours of 5am to 6am on Saturday May 19, the scheduled date for the state congress, all delegates had arrived the venue for the congress at Ehime-mbano magnificent council hall. It's Imo APC state congress, the party office previously burnt, any venue approved by the Party State Working Committee, SWC, led by Chief Hillary Ekeh is recognized by law as long as it's within Imo territory. Ehime-mbano Council Hall was idle.
Governor Rochas Okorocha with more than 200 security operatives including state own security outfits, more than 20 buses loaded with thugs, the governor embarked on search operations looking for anywhere with resemblance of gathering of APC Congress, touring all the Local Government Areas in Owerri zone, disguised as project inspector , Okorocha's long convoy went to Okigwe Zone and houses of Top members of the Imo APC Stakeholders coalition were monitored. After a an unsuccessful search operation, in a decoy, Governor Okorocha ended up at the project site of Okigwe Township stadium where he granted a press conference calling the Imo APC opposition group cowards.
But unknown to him, while he was full of himself,calling the opposition leaders names, smart and tactical opposition group are in a mini stadium hall in Ehime-mbano LGA carrying out the accreditation and voting to elect would be State working committee members of the Imo State chapter of the All Progressive Congress.
Youths of Ehime-mbano had all gathered at the boundary leading to the Hall and field in solidarity to their worthy son, Chief Tony Chukwu and possibly chase away any Invader including Okorocha himself. For No institution or government has done to Ehime-mbano local government areas what their son Chief Tony Chukwu has been able to do, so the traditional, religious institutions, men, women and youths can risk anything to protect whatsoever is the interest of their revered son, no wonder, APC Coalition opted to choose Ehime-mbano as best destination.
By 4pm, the accreditation and voting was over, and Chief Hillary Ekeh, Hon Ugochukwu Nzekwe, among others were reelected as Chairman and Vice Chairman of the Imo State chapter of the All Progressive Congress and duly returned by the Imo APC State Congress Electoral Committee and acknowledged by the Chief John Oyegun led APC National Working Committee as duly elected.
And it was all jubilation in the streets of Owerri, and across the 27 LGAs of IMO state how the Governor of Imo State Owelle Rochas Okorocha who developed to an empiror was caged, palmed off and humiliated by members of his party as a prelude to a revolution awaiting him from Imo pensioners, civil servants, traders, artisans, politicians commercial transport workers, Imo electorates, etc.
How has the mighty fallen, truly absolute Power intoxicates. Okorocha's Imo, a planned political estate has started to crumble. And Imo people are happier for it!
Cc IfeanyiCy Njoku