Borno To Prosecute Parents Guilty of Early Girl Child Marriage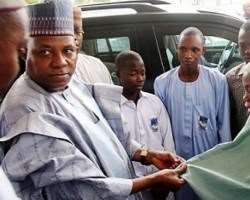 Borno State Government has threatened to prosecute any parent found guilty of engaging in giving out underage daughters in marriage henceforth.
Governor Kashim Shettima dropped the warning recently while addressing parents whose children were beneficiaries of the free/special education programme introduced by his government.
The government also presented parents with incentives which included food items and wears, as part of efforts to encourage them to send their female children to school rather than giving them out in early marriage.
"Allow them to finish secondary school; irrespective of all the assistance and hospitality we offer you, whoever marries out his 12-year-old daughter would be prosecuted.
"We as parents must help them acquire western and religious education," Shettima said.
The Fulani community comprises mostly of internally displaced persons IDPs from the Lake Chad region seeking refuge in Maiduguri.
It will be recalled that before the Borno state government free or special education initiative, many of the Fulani parents were opposed to western education for long as herdsmen which led to both federal and state governments introducing Nomadic Education programme for them where schools were built and teachers were also recruited and trained to teach the nomads but to no avail.
But today, they have been made to understand and accept the benefits of the western education for their children, especially, the female children and almost 600 Fulani children have benefited from the free/special education programme of the state government.
Some parents who spoke to newsmen expressed gratitude and appreciation to the governor for the initiative.
One of the parents, Amina Maina, said: "We are from Gudumbali, it's because of the crisis that we came here, and we didn't return. Since our children have now been enrolled in school we are not going anywhere until they finish school if God spares our life."
The governor also pledged that, homes will also be provided for the displaced Fulanis as 100 houses were expected to be set aside for them from the homes built by a Alhaji Aliko Dangote Foundation for victims of the boko Haram insurgency in the state.