Countdown to Ita-Osun Festival 2018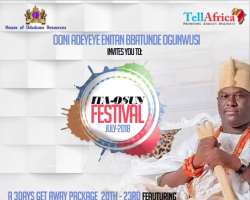 According to Yoruba epistemology as passed on to me by my king; the Arole oodua, Ooni Adeyeye Enitan Babatunde Ogunwusi;
When Osun Oniyangi descended to the planet Earth, her first stop was Ita-Osun, Ile-Ife in Nigeria.
Hence, Ita-Osun became the root of all rivers of flowing waters in the world as she situates at the Cradle of the Yoruba race.
Osun Oniyangi is wonderfully and fearfully made in the image of God. She is an Octopus shaped river. Osun Oniyangi like every other human has her sensory organs intact.
She posses eyes with which she could see. She also has a nose and a mouth just like normal human being and Osun-Oniyangi has legs with which she walks.
Osun Oniyangi remains at Ita-Osun in Ile-Ife to date as the base of all other Osun rivers.
Osun Oniyangi is mysterious; It changes colour, just like a chameleon.
Sometimes she could be colour green and before you know it, she could be blue or brown and sometimes golden.
Osun Oniyangi has a potent healing power for any type of illness when it changes to agbo(medicinal herb).
Osun Oniyangi also breeds fishes and reptiles which changes colour just like the river; the animals tend to change colour each time their habitat, Osun-Oniyangi changes her colour.
Ita-Osun is full of wonders and a place to visit.
Osun Oniyangi like every other creature deserves to be celebrated.
Ooni Adeyeye Enitan Babatunde Ogunwusi invites you to this year's festival of Osun in Ile-Ife; it holds 20-23 July 2018.
This year's festival promises fun all the way; while culture, heritage and tourism is preserved, a touch of modernity shall be the icing on our cake.