Reactions Of Borno People On Shoe Polish Youth Empowerment Scheme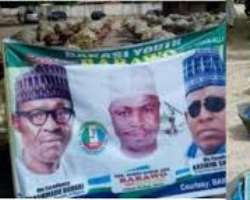 Series of reactions have continued to awash the recent shoe polish empowerment or donation to youths in Gwoza town of Gwoza LGA of Borno state as part of youths empowerment or welfare programme by the Borno State Commissioner for Higher Education, Honourable Usman Jaha who is also a 2019 APC Aspirant for the House of Representatives targeted at uprooting the serving House of Representatives member representing Gwoza, Damboa and Chibok Federal Constituency at the national assembly, Dr. Asabe Vilita Bashir whom he had contested primaries with her in 2015 but was instigated to drop his political ambition for her and was settled with commissionership appointment to date.
The position he still hold since he opted out from the House of Representatives membership in 2015 as a member representing Gwoza LGC Constituency at the state House of Assembly, Borno state to run for the House of Representatives.
Investigation revealed that among the beneficiaries, males were empowered with new improved shoe shining kits fully equipped with bucket, polish and brush while the women were empowered with wooden basket and bags of oranges.
But when photographs of the empowerment materials or donation went round on the social media on Wednesday last week, some critics or opinions on the social media actually condemned the programme while others chided the Borno State Government for initiating such a programme which was claimed to be sponsored by Governor Kashim Shettima as poverty alleviation programme.
However, some cross section of the society, mostly, Maiduguri residents and IDPs from Gwoza IDPs camp in the designated Bakassi IDPs camp Damboa- Biu Road were of the views that the government at least did well and supported the youths in good faith with what the youths actually wanted.
Habu Musa Hambagda who is an IDP from Gwoza town living at the Bakassi IDPs camp for over three years said, " We have been living here foe years without a job, no occupation, no farming, no business, nothing to do."
"Even government or our rich people and politicians did not provide us with any job to do. Only NGOs are feeding us and it is not enough. We have children and wives. How do they want us to survive all these years of the insurgency.
" So, as far as we are concerned, the shoe polishing of a thing people are complaining or criticising is one of the popular menial jobs for many unemployed youths today even outside the IDPs camps. Go to towns and see and even the out-of-school youths have embraced the business in the absence of employment to earn a living, especially in the north", Habu said.
Similarly, one Madam Hannatu Audu, a widow with four children at the Gwoza IDPs camp also said that, " Oga, this talk going round everywhere is nothing but noise to us as far as we Gwoza people who have suffered so much both in Gwoza and at the camp are concerned."
" We welcome the donation or support to our young people in order for them to have something doing at least. Things are hard and there is no employment. Are we going to die and live in hunger with our children.
"If there is no job and we as mothers can not find anything to do at the camp, those of us that have returned home in Gwoza can at least start up with something to survive that they have been donated with.
" So, the welfare or poverty alleviation package by the commissioner who is our son and knows very well our problems and challenges before bringing this support to us is appreciative.
"They can say whatever they want hence they can not come to help us. Our own have done it to our young ones and one day he will also help us the women, especially, the widows, Hannatu said.
A civil servant with the Borno Sate Civil Service Commission, Modu Wakil said, " Yes. We heard of it but I should think there is nothing wrong with such assistance".
"At least, the youths have been supported and made self reliant or employed instead of allowing them roaming the streets or living idle as an idle mind is a devil workshop they said.
"We are also in support and don't see anything bad in a government or governor assisting youths with shoe polish and other kits to be empowered.
"By the way, don't we have youths going about doing shoe shining business all over the streets in towns and villages. Some even have shops or stalls in markets and on the streets as cobblers and they are making it, sustaining themselves and their families or supporting their parents with the little they get.
" Let those criticising continue to criticise because they don't have job doing and are idle minds that is why. If not, there is nothing wrong with the gesture to the young people by the commissioner or even government.
"Although, we learnt that the issue has crated a rift between the commissioner who hailed from Gwoza and his boss, the governor. But there is nothing wrong to support youths with petty business or trade items to empower them be self reliant today, especially, those youths that are victims of the boko Haram insurgency who either loss their loved ones or parents or relations and have nobody to support or cater for them.
" This is my opinion as a father and civil servant. At least I know what is happening in Borno state in the last nine to ten years of the insurgency. We witnessed terrible things and thank God that today things are gradually returning back to normal with the support and sacrifices of both the federal government, NGOs and military forces including other security agencies and the amiable vigilante groups of Civilian JTF and Hunters," Modu said.
Nevertheless, a resident of Maiduguri metropolis, Bakaka Goni, a petty trader at the Post office Area (Central Business District) of Maiduguri metropolis said, " I am also not in support of the state government through the state commissioner distributing shoe polish items to youths in Gwoza town as poverty alleviation or empowerment programme."
"I expect the governor and his commissioner who is also from Gwoza and know full well the conditions of their people to donate better poverty alleviation or youths empowerment materials that will really touch the lives of these youths permanently and for long period not these petty shoe polish kits that are temporary and not permanent
" Giving the youths better empowerment or poverty alleviation support like engines or machines for tailoring, hair dressing, barbing, keke NAPEP, grinding, irrigation water pump machines, sewing machines, etc could support and assist them go a long way in their lives and even support others too not shoe polish. This is my view about the issue," Bakaka said.
One Mamman Jibrin, a commercial driver shuttling Post Office and Old Airport, Baana Ali said, " As for me, I will not have collected the shoe polish kits in the first place because it is embarrassing to me and even the Borno state government ".
" This is the first time that I am hearing a state government is supporting or empowering his people with shoe polish kits. It is a shame and I would not have received it in the first place
"Instead of the government with all the money Kashim Shettima collected from NGOs, international community and even President Buhari in billions of naira that we are hearing, he is empowering youths with shoe polish kits that even a LGC chairman or Councillor of a LGC can even do comfortably.
" How I wish all the youths including the women that were given wood baskets and buckets could return the items back to the state government and continue to stay like that without the government's support if it is shoe polish business government is assisting them with", Baana said.
But Governor Kashim Shettima of Borno sate has reportedly said to have clarified the issue later in the week to say that the empowerment was not actually initiated and sponsored or organised by the Borno state government.
The governor further queried the state Commissioner for donating image "diminishing gifts" to his people at the detriment of the state government as a state commissioner in his government and an aspiring House of Representatives member who intends to represent his constituency at the national assembly.