DELTA 2019: Governorship Aspirant Ask Aged Politicians To Quit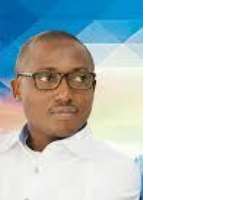 Ahead of the 2019 governorship tussle in Delta State, the gubernatorial aspirant of Action Democratic Party (ADP), Comrade Frank Ufuoma Esanubi, has asked opponents from other political parties who are between the ages of 60-70 to quit the scene, "they have only being around for this long because they have thought before now that there are no young people to step up and take over the mantle of leadership from them".
He hinted that the younger generations are out to relief the older ones who still stock their necks in politics of their burden just as he commended them for the feats they recorded over the years, "we are here to relief them of their burden. They have done very well but with what we are putting on ground now, we are serving them retirement notice", he declared.
The governorship aspirant who is in his 40, stated this Friday while fielding questions from newsmen at the secretariat of Asaba Correspondents' Chapel of the Nigeria Union of Journalists (NUJ), Asaba, the state capital.
He assured them that the younger generation if given the chance, would consult them for advice when the need arises, "they are our elders, they have done well and we will still go to them for advice. They have advice, we can listen to them", stressing the elders should spend more time sitting down because of old age".
On whether he would be able to give other governorship hopefuls in the race a good match, he said, "I will be honest with you I don't have the kind of resources to match them. What I have always told people is that the bad people among us are not more than the good people, in 2001 and 2002 when we had a lot of cultism in our higher institutions. In fact, the average students who were good were running away because of the scourge of cultism, Nigerian students rose up and said enough is enough and chased out cultists from tertiary institutions".
He disclosed that the efforts the party is building is to build a network of people that would say 'enough is enough' to corruption and mismanagement of state treasury by alleged thugs and those who are used to undermining the collective interest of the masses.
He assured that there are enough strategies to mitigate those who are allegedly good in the rigging business.
Toeing the line of former President Goodluck Jonathan, he noted "as Frank Esanubi, my ambition is not worth the blood of any Deltan. We will do all we can but we will try to see to it as safely as we can and we will try to protect our votes as safely as we can", he assured.
Asked if he has the experience to govern the state, he said, "In terms of experience, there are some experiences that we do not even need at all. Those that have held political office till date, the experience that they have shown that they have is the experience of looting, stealing our common pulse and mismanagement of funds and that is all they have to show for us for the time they have being in politics", saying if that was what was needed to come into power, "then we do not need experience to succeed in government".
He bombarded successive governments in the state for allegedly presiding over the relocation of companies from the state, "I support intervention policies in the part of government and I support been a part owner of any investment".
While agreeing that his party was barely one year old, he disclosed, "it was formed in June 2017 but I will also tell you that it is the fastest growing political party in Nigeria. Within one year of our existence, we have offices in the 36 states of the federation. In Delta State here, we already have our presence in the 25 local government councils".
He further revealed that the ongoing coalition which is in discussion with over 30 political parties in the country, "ADP is one of the five parties that have been shortlisted which will finally end up been used as the face of that coalition, it is only a matter of time, the announcement will be made".