Nigerian Army Reaffirms Humanitarian Commitment To Idps Returnees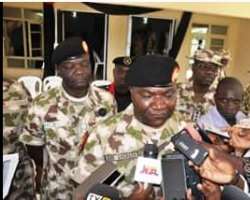 The Nigerian Army has reaffirmed its humanitarian commitment to Boko Haram Victims in the North East of Nigeria.
The Chief of Civil Military Affairs Maj Gen Nuhu Angbazo stated this during a press briefing in Maiduguri Borno state yesterday marking the 2018 Nigerian Army Day Celebration (NADCEL) which is to take place in Operation LAFIYA DOLE Theater.
The Nigerian Army Civil Military Boss stated that the event is designed to feature Nigerian Army's humanitarian commitment and showcase the combat capability and equipment of the Nigerian Army and subsequently conduct operations to totally destroy Boko Haram Terrorist locations in the LAKE CHAD Basin.
Maj Gen Angbazo stated that the Civil Military Cooperation activities are embedded in operation LAST HOLD which commence from 1 May – 8 Jul 18. He added that Activities for NADCEL 2018 will include COAS Press Conference, combined Church Service/Juma'at Prayer in all Formations, Sanitation Exercises and Seminars/Workshops.
In his words he stated that "There will be robust Civil Military Cooperation activities such as medical outreach, sanitation exercises, renovation/constructions of boreholes and town hall meetings tailored towards winning the hearts and minds of the civil populace within the theatre as well as facilitate the safe relocation of Internally Displaced Persons back to their homes."
He further stated that the Nigerian Army Engineers will mould blocks using compressor machines and assist in building new homes for returnees at their various towns.
"The Nigerian Army will also cooperate with state governments and ministry of agriculture to assist in land clearing for planting during the planting season.
It will provide protection throughout planting and harvest periods with patrols and escorts to ensure food sufficiency. The Nigerian Army Medical Corps will equally deploy medical resources fully to cover the period of the operation." He stated.
The event is also said to have Sanitation exercises in selected locations with large presence of civilians as well as town hall, security meetings and sensitization workshops with traditional rulers, religious leaders, village heads etc.
Recounting past events the Chief of Civil Military Affairs stated that a mini water project has also been commissioned in Gelengu, Balanga Local Government Area of Gombe State, as consultations with Federal ministry of Agriculture and other relevant ministries are also ongoing with the view to eliciting their active involvement in the rehabilitation and location of Internally Displaced Persons back to their communities.
Maj Gen Angbazo concluding his speech said "The Nigerian Army recognizes the importance and role of the media not just in information dissemination but also for the crucial roles it plays in winning the hearts and minds of the civil populace.
To ensure that the general public is carried along, and kept abreast with the activities of the Nigerian Army as regards NADCEL 2018 and OP LAST HOLD, the Nigerian Army has established a Media Operation Centre."
It is hoped that the aim of this media centre which is to ensure that clear information regarding Nigerian Army operations is passed across to the general public is truly achieved and minds of the civil populace are won.
The Civil Military Affairs Boss of the Nigerian Army rounded up by calling on all well-meaning Nigerians, Civil Society Organisation, International Non-Governmental Organisations and the private sector to continue to support the Nigerian Army to ensure the successful return of Internally Displaced Persons to their ancestral homes.