Kudos, As Governor Ayodele Fayose Scores Another First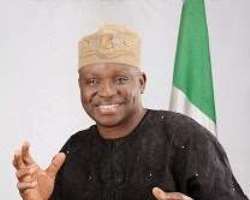 As the race to succeed Governor Ayodele Peter Fayose of Ekiti State gather momentum with the various political parties holding primaries to choose their flag bearers for the forthcoming July 14, 2018 Ekiti State gubernatorial election, Governor Ayodele Fayose as in his character, has scored another first by picking a deputy governorship running mate for his annointed candidate and deputy governor, Prof. Olusola Eleka who is the Governorship flag bearer of the Peoples Democratic party (PDP).
While it's a fact that Mr. Ayodele Fayose is not the first incumbent Governor to ensure that his annointed candidate becomes his party's flag bearer for election, one can say with all sense of responsibility that he is probably, the first to pick a successor and his running mate at a time and then proudly proclaim it to the hearing of all, like he did recently at a public function to celebrate the choice of Mr. Deji Ogunsakin as the running mate to Prof. Olusola Eleka of the Peoples Democratic Party (PDP).
At the said function in Ado Ekiti, the state capital, Governor Ayodele Fayose publicly declared that he has fulfilled one of his electoral promises and thus, one can only say, congratulations Sir for being the first to also make a public show of picking a running mate for your party's gubernatorial candidate in an upcoming election in our democracy.
One recollects that the victory of Mr. Peter Ayodele Fayose in the Ekiti State gubernatorial election of June 21st 2014, was described variously in several quarters in terms which suggest that it was a miracle in view of the believed sterling performance of the then incumbent Governor Dr. Kayode Fayemi in office, which should have earned him a re-election, but alas, to everyone's shock and amazement, the wonder boy and stuntsman according to Prof. Akin Oyebode, proved the book makers wrong.
However, while political watchers were still trying to make sense of Mr. Fayose's magical electoral victory, what is now known as Ekitigate was unveiled in a leaked audio tape courtesy of an online news medium by one Captain Sagir Koli of the Nigeria army in late 2014 which exposed how the rigging machinery which aided Mr. Fayose's electoral coup victory was plotted by key hench men in his party like Mr. Jelili Adesiyan, now Senator Chris Uba, Senator Iyiola Omisore, Mr. Ayo Fayose, Brigadier General Aliyu Momoh, the brigade commander of the Nigeria army 32nd artillery brigade in Akure, Ondo State and Senator Musiliu Obanikoro, then Minister of state for defence, who was heard incontrovertibly in the tape, boasting that the subversion of democracy plot had the blessings and support of former President Goodluck Jonathan and it involved the manipulation of the voters register which Mr. Fayose claimed in the audio tape was given to him by some INEC officials, arrest, brutalization and detention of political opponents, majorly of the defunct Action Congress of Nigeria (ACN) now metamorphosed into the All Progressive Congress (APC).
Following the release of the audio tape of how the then ruling party, the PDP abused the security agencies to subvert democracy in Ekiti state and install Mr. Ayodele Fayose as Governor in 2014, Nigerians and all lovers of democracy across the globe, were livid with anger as various pro-democracy organizations and interests were very vociferous in demanding for a probe of the "coup" of electoral victory of Mr. Fayose, but as expected, the then government of the day, turned a deaf ear, but it became an albatross which haunted the Goodluck Jonathan administration till it was voted out of office in the March 28th, 2015 general elections.
With the inception of a new administration at the centre on May 29, 2015 and due to the relentless calls for a probe of the Ekitigate scandal, the military having come to terms with the damage done to its image and integrity by the alledged misconduct of a senior officer, bowed to public pressure and embarked on measures to redeem it's tainted image in the eyes of the Nigerian public and by extension, the rest of the world, by constituting a high powered panel of inquiry to investigate the role of the military in subverting democracy in Ekiti state in 2014.
The recommendations of the army panel of inquiry which filtered into the public domain include amongst several others, the immediate and compulsory retirement of Brigadier General Aliyu Momoh for bringing the image of the Nigeria army to public disrepute by his conduct of compromising his commission for political patronage and gain. But notwithstanding, we still regard this punishment as too lenient for an officer of his stature and will continue to insist that Brigadier General Aliyu Momoh be arrested and arraigned for treason with his co-collaborators like Senators Musiliu Obanikoro, Chris Uba, Iyiola Omisore, Alhaji Jelili Adesiyan and others who have all owned up to their roles and not forgetting incumbent Mr. Ayodele Fayose when his tenure in office as Governor expires later this year.
As Governor Ayodele Peter Fayose of Ekiti State scores another first by his annointed candidate emerging as his party's flag bearer and he personally picking his running mate, rather than the party in line with democratic tenets, one cannot but congratulate Mr. Ayodele Fayose for scoring another first in our democracy and to the people of Ekiti State, e ku a mojuba, welcome to a new dawn.