CLUBS STRUGGLE FOR BALLACK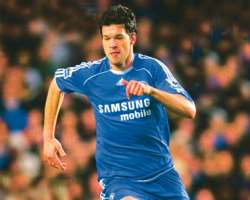 Bundesliga clubs from Schalke to Wolfsburg have been linked with Michael Ballack as the English media was stunned that the Germany captain was no longer wanted at Chelsea.
As soon as the news broke on Wednesday that Ballack, 33, would not get a new contract at the Premier League champions the rumour mill went into overdrive.
Ballack himself would have preferred a new deal at Chelsea, but told British paper The Times that owner Roman Abramovich was against it (Joe Cole and Juliano Belletti have to leave as well).
'Chelsea was always my first choice as I had four great years at the club and enjoyed every minute, but it was not to be … The decision was down to Roman,' said Ballack.
Ballack, who misses the World Cup because of an ankle injury, told The Times that he wants to play on until Euro 2012 which will be his last chance to win a major international trophy.
'I want to play for at least two more years at the highest level so I can play for Germany at the European championship,' he said.