Who Succeeds Rochas in 2019? A Case for Home Base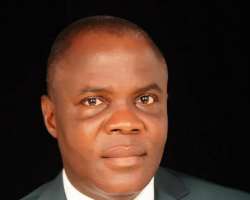 What will you do when you come to the awful realisation that your fate, future, dreams, career, and aspirations have been modelled in scenic tracts, so luring that its artistic values capture your contemplation, without digressing from the aesthetic appreciation to reflections on your destiny, self-actualisation projects and journey to self-transcendence? What would you do?
What will you do when it becomes crystal clear that all your long-term plans, projects, calculations and aspirations are getting dashed, purged into the suck-away pit by folks with whom you vouched and shared same dreams, visions and aspirations, now declaring you invalid and a waste product? What would you do?
What will you do when those you built and moulded from matter to become substances, cling on their substantial forms to challenge you their maker, having now shared same substance as generic stuff, they let you know their present immortality and thus begin the ancient myths of Greek gods' battles, the subordinates now against their principal? What would you do?
What will you do when one who made you firm and fame for his self-succession over the years, and in the process sucked all essences you have in diverse dimensions in order to mould a new essence for a unique being that makes you two, a people set apart, and at last, he carries the portfolio of your sucked essence to drycleaners to wash off, and dash the portfolio to another fellow? What would you do?
These existential problems are compounded and evident in the Shakespearean Hamlet's question: "To be or not to be- that is the question." These have engulfed the Imo APC in its preparation for the 2019 general elections. The British poet, William Wordsworth, wrote "things fall apart, the centre cannot hold, mere anarchy is found around the world...The best lack all convictions while the worst are full of passionate intensity" Another British poet, William Butler Yeats wrote- "An Irish Airman Foresees His Death." The possible death of Imo APC was sensed as early as 2015 by Nwanguma and some APC chieftains in Imo, but we ignored them.
When journalists in their watchdog functions in the society embark on speculative journalism, many neglect the prophetic nature of their works. For instance, on October 12-13, 2015 the editor of the Nigerian Horn, Ifeanyi Nwanguma, lanced a prophetic front banner headline- "Who Succeeds Rochas in 2019?" Too early for such speculation, as it came barely 4 months and 14 days after Rochas was sworn in for the 2nd tenure. He portrayed the images of Rochas' best friends and closest allies: Araraume, Nwosu, Ejiogu and Madumere. While he projected Araraume and Ejiogu in front, Nwosu and Madumere were at the back. Barely 2 years after, the frontals fell off first, then 3 years later the backers begin to fall out one against the other- Madumere fell off and Nwosu is battled not to remain. When these four possible successors cannot succeed the Governor as realities are showing, I would ask my prophetic colleague Nwanguma, what next? In fact, I need Nwanguma to say who succeeds Rochas come 2019, given the situation at hand. Can Ifeanyi Nwanguma and the Nigerian Horn recall their edition that is being referred to? I am a good researcher and documentarian. He wrote thus:
"As 2019 gradually draw closer, the political dynasty of Governor Rochas Okorocha is searching their minds to probably know who will succeed the Ogboko-born politician come 2019. Political pundits are seriously worried over who will succeed Governor Okorocha considering the political history of Imo State since 1999.
It is a living fact that the inability of Chief Udenwa to nurture the person that will succeed him destroyed the political dynasty he built for eight years and which destroyed the Peoples Democratic Party (PDP) in Imo State. It is strongly believed that Chief Udenwa failed because the person that succeeded him belonged to another political dynasty and the rest is the story today.
The anxiety not to lose Imo State to PDP in 2019 is giving the All Progressives Congress (APC) chieftains in the State sleepless night. However, putting into consideration the body language of the governor and that of his immediate family members and friends, it is very clear that he may choose one among the four strong likely contenders in APC. They include: Prince Eze Madumere, Sir Jude Ejiogu, Ugwumba Uche Nwosu and Senator Ifeanyi Araraume...." The piece continued.
Three years into the prophetic journalism, what has happened to Governor Okorocha's political dynasty today- Imo APC is in disarray? Uwa APC, gharaghara ayagha, says Prof George Emeka Ekwuru, cmf. Will history repeat itself this time again, re-enacting Udenwa's failure after 8 years and unable to install a self-nominated successor? Has Okorocha succeeded in nurturing his successor and has the nurtured successor been allowed to stand?
Why did Udenwa fail and which actors were on stage then that are not on the present political stage or have their replicas poised in same scenario, warming up to make history cyclical? Will Rochas not fail if one that succeeds him is not of same political dynasty-APC, as Udenwa failed? Where are those perturbed Imo APC chieftains (that Nwanguma referred to as) passing sleepless nights at that early stage, now the hour has come and the party is boiling? Of a truth, if there were such then, they are clairvoyants and most worthy to be entrusted the affairs and future of the party. But have they found sleep now, or are they like Rochas who showed Prince Henry Okafor the man and went to sleep, and is said to have discovered on his bed that he has murdered sleep and sleeps no more?
The body language of the Governor and those of his immediate family members and friends, are they still speaking in one voice and synergy, or has every man gone to his tent? Was it not their body language that prompted the speculation that he will choose one of the four mentioned above, and has it not come true? Will he succeed, given the relentless battles of the Allied Forces?
Has Rochas been fair to them and to the 2nd order (alternative) group: Chima Anozie, Acho Ihim, Jerry Chukwueke, Uche Onyeaguocha, Chuks Ololo and Emma Ojinere, etc? Like a possessed Owu Mmiri masquerade, very early last year (2017), the early crow, Prince Henry Okafor, like a self-conceited rooster, went on the apex of his voice and flapping wings crying "Show us the man and go to sleep!" Immediately Rochas showed Imolites the man, what did Henry do? He quickly withdrew inside like a witted tortoise, became like the Israelites Deus Absconditos and Deus Otiossus (the Absent God and Hidden God). Is he vouching for the 'show us the man' again? No, but we see only Hon Chike Okafor who Rochas counted less productive in the past.
On Monday, February 26, 2018 I published an article in the Nigerian Horn and Big Truth newspapers, "Echoes of a Clapping Governor, Rochas and the Sons of Jeroboam." Many passed the piece without reading or taking it serious. What is happening today? The editor of the Nigerian Horn, Ifeanyi Nwanguma, like a prophet and while featuring the piece, projected the images of Acho Ihim, Chike Okafor and Chima Anozie as the true sons of Okorocha (Rehoboam). But there is something mysterious about that Ifeanyi Nwanguma, I feel he should be a prophet of journalists. Today, who remains with Rochas- Acho Ihim and Chike Okafor standing by him, with Chima Anozie who is on the fence, refusing to join any of the warring parties?
Of a truth, Rochas has lost most of his former boisterous family members and allies in the Rescue Mission and APC dynasty. Acho Ihim is too weak a politician to struggle in a heated warfront. Emma Ojinere is too weak and now concentrates on his Owerri zone senatorial bid that he lost in 2011 to Mrs Chris Anyanwu, and came out in 2015 under the PDP for the guber race and lost to Emeka Ihedioha, the trio being from the same Mbaise nation. In same vein, Chike Okafor is relatively strong, because his strength has no wider coverage as he is only firm in his little federal constituency.
On the contrary, Barr Chima Anozie is alone. He is neither with Owelle and his embattled son-in-law nor with the Allied Forces (of former arch-enemies in unholy alliance- Senators Hope Uzodinma, Osita Izunaso, Ben Uwajumogu and Ifeanyi Araraume). The Allied Forces are full of past enemies in new unholy alliance. Could the new allies- Hope Uzodinma and Osita Izunaso remember their most bitter battle for the Orlu Senatorial ticket and seat in 2011? Can they remember the popular "Ides-of-March-Judgement" of March 23, 2011 at the Court of Appeal? Now, they have settled as best friends against Governor Okorocha.
Apparently, some of the Allied Forces are angry with Chima Anozie for not joining forces with them and for being on the safer side. While the Ugwumba group has expected his incorporation, he rejects the pressures, insisting he is a pacifist and need not participate in the fight. He is rather wont not to join any, but insists on the oneness and unity of the party. He stands a better chance for the succession choice in the APC dynasty after Governor Okorocha, and is the best option that the APC national body needs to look upon for the quick restoration of peace and focus in the party, if it must thrall come 2019.
Prince Stanley U Okoroji writes from Owerri.