Equity's Candidate For Ebonyi Guber 2019 Comes To Ohaukwu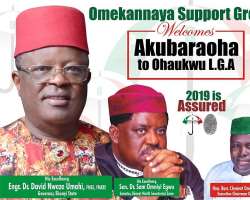 On Saturday 12th May, 2018, all roads lead to Ohaukwu council sports pavilion, 135 Ezzamgbo as the great and warm people of Ohaukwu hosts the esteemed presence of a personification of good governance, an excellent manager of human and material resources, an apostle of the common good, a certified anti-corruption commander and a divine donation for the liberation of Ebonyi State and her people - His Excellency, Governor David Nweze Umahi [Eze Chinyere 1 of Ebonyi state]. The event is a solidarity rally in honour of Governor David Umahi. This visit by the leader of Ebonyi politics is a home-coming because with its unique and enviable status as The Land of God, it naturally follows that an apostle of God like the charitable Governor of Ebonyi state cannot be regarded as a stranger in Ohaukwu!
Governor Umahi's projects like the reconstruction of the entireAbakaliki urban road network on rigid pavement, the construction of the 23.5 kilometer Hilltop-Nwofe Agbaja virgin road as well asother roads across the entire landscape of Ebonyi state, theagricultural revolution which has yielded food security and madefarming both profitable and an alternative source of income, theWaste Recycling plant with 3000 job opportunities for Ebonyiyouths, the 3 modern flyovers and the total transformation ofAbakaliki into a modern capital city and the pride of Ebonyi peopleare the reasons for their support for the second term project ofGovernor Umahi.
Other projects like the meaningful empowermentof widows, youths and civil servants without regard to politicalaffiliations; the street lights in the entire Abakaliki capital city, 13council secretariats as well as satellite urban settlements; theresumption of oversea scholarship programme for our youths; theintervention in the reconstruction of three federal roads with a totaldistance of 54.5 kilometers in Ebonyi state as well as theunprecedented stomach infrastructure programme through which innumerable Ebonyi men, women and youths have been appointed into gainful positions; and the industrial revolution which runs onthe single-digit financial facility engendered by Governor Umahi'spartnership with the Bank of Industries are the reasons for thissupport for Governor Umahi.
In particular terms, Ohaukwu men, women and youths arecelebrating Governor David Nweze Umahi for breaking the jinxwhich the construction of Ezzamgbo - Effium road had become. Forthe first time, the road is being constructed on rigid pavement to lastfor decades. In the same vein, Ohaukwu council secretariat andother satellite settlements like Effium have street lights which, apartfrom ambience in the nights, aid security of lives and property inOhaukwu. Added to these are the positive impacts of the Ministry ofBoarder Peace and Conflict Resolution in resolving inflamableinter-personal and inter-communal conflicts; the turn-aroundrenovation and equipment of Ezzamgbo General Hospital and thepositive roles of Ebonyi Neighborhood Watch which, incollaboration with formal security agencies, have ensured greatersecurity in Ohaukwu land.
The involvement of Ohaukwu sons anddaughters in governance through sensitive appointments ascommissioners, Special Assistants, Board members, SeniorTechnical Assistants and Technical Assistants is a thing of joy. Theunprecedented empowerment of Ohaukwu women, widows, youthsand intervention in the payment of hospital bills of our sick andindigent kin also add up to the reasons for this solidarity forGovernor David Umahi's second term.
For all these and more, Ohaukwu people shall with one voice sign,seal and deliver the 2019 second-term project of Governor David Umahi by officially adopting Umahi in the soil of Ohaukwu, theLand of God, as the candidate of the people of God for the forthcoming 2019 Ebonyi gubernatorial election. This will be a watershed in this second phase of the Divine mandate project because since 1998, no other party except the People's Democratic Party has ever won any election in Ohaukwu Local Government Area. The hope of the transformation of Okwor Ngbo - Ndaburu-Ebenyi - Nigercem earth road and Effium - Inikiri - Ekendiegu -Enyanwigwe earth road to rigid pavement roads which can only berealised through the indisputable Roadmaster - Engr David NwezeUmahi - makes Ohaukwu traditional solidarity of casting their 132, 884 votes en bloc more imperative in 2019.
In conclusion, Ohaukwu people will use their formidable voting strength to ensure the re-election of Engr. David Nweze Umahi because it conforms with Ebonyi people's tradition of equity and justice which has been practised for about two decades. This tradition is that all the previous governors of Ebonyi state, including the one that did not perform well, served two uninterrupted tenures. Equity and justice demand that this tradition of continuity cannot be broken at a time when Ebonyi is blessed with Governor David Nweze Umahi whom verifiable records hold as the best performing governor in the history of Ebonyi state. Thsrefore, Governor DavidNweze Umahi is Equity's candidate for the 2019 Gubernatorialelection; and the people of Ohaukwu stand with Umahi irrevocably.
It is well with Ebonyi State!
Disclaimer:

"The views/contents expressed in this article are the sole responsibility of the author(s) and do not necessarily reflect those of The Nigerian Voice. The Nigerian Voice will not be responsible or liable for any inaccurate or incorrect statements contained in this article."