N5.5BN FRAUD: EFCC, NYAME DISAGREE OVER PROOF OF EVIDENCE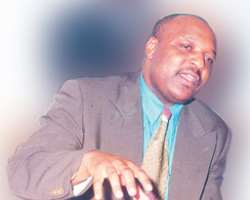 Jolly Nyame
The Economic and Financial Crimes Commission and a former Taraba State Governor Jolly Nyame on Thursday disagreed before an Abuja High Court over the additional proof of evidence by the EFCC.
The EFCC is prosecuting the ex-governor for his alleged involvement in N5.5bn money laundering and diversion of public funds.
When the matter came up before Justice Adebukola Banjoko, Nyame's lawyer, Mr. Lateef Fagbemi (SAN), told the court that the EFCC was employing unlawful tactics and ambush in his client's trial.
The ex-governor stated this in his preliminary objection challenging the decision of the commission to file additional proof of evidence after commencement of trial.
The EFCC's lawyer, Mr. Rotimi Jacobs, had filed an additional proof of evidence numbering 171 pages which contained fresh statements obtained from some of its witnesses.
But Fagbemi had told the court that the action of Jacobs in filing additional proof of evidence without giving him with the list of witnesses to testify on Thursday showed that the trial of his client by the EFCC was that of 'persecution' and not 'prosecution'.'
But Jacobs replied that he was prepared to take arguments on the preliminary objection raised against his additional proof of evidence.
Although the judge told him to file a counter-affidavit to the application in support of Fagbemi's objection, the EFCC's lawyer said, 'I don't need to file any counter-affidavit. I will respond orally. I am ready for them. They can move their motion.'
Justice Banjoko then said, 'Calm down, you may need time to study the application and respond to it with a counter affidavit. So, I can stand down the matter for you to react or adjourn till tomorrow.'
The judge later adjourned the case till Friday (today).