PRO-BANKOLE REPS MOVE AGAINST HOUSE FACTION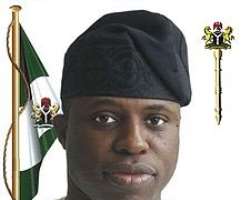 Dimeji bankole
As tension heightens in the House of Representatives, some loyalists of the Speaker, Mr. Dimeji Bankole, met on Thursday in Abuja to plan counter-strategies on how to respond to the seven-day ultimatum given to him to resign.
Investigations by our correspondent revealed that some influential chairmen of committees were among the lawmakers who attended the meeting held at the National Assembly.
It was gathered that the chairmen reviewed the threat of the Progressive-Minded Legislators and suggested that the House should 'nip their plot in the bud before it gets out of hand.'
Sources privy to the meeting disclosed that many of the chairmen loyal to Bankole tried to protect their own interests by arguing that counter-strategies must be put in place to avoid a situation whereby Bankole's exit might also mean their own downfall.
One of the sources said, 'The PML are not going after the Speaker alone; they are going after the entire leadership of the House, even though the chairmen do not believe that those aggrieved members can substantiate their allegations.
'But you know how it is with politicians; nobody is sure of what will happen when the House resumes on June 22.
'If they are able to sway members to back a resolution asking the leadership to go, it implies that many of the chairmen may not have a chance of being retained by a leadership.'
It was gathered that one of the punitive measures considered at the meeting was to mount pressure on the leadership to place members of the PML on indefinite suspension.
'Up till now, we doubt if there is anything concrete in the documents brandished by the PML on Wednesday.
'Why did they refuse to release the documents, if their intention was genuine?
'Why give the Speaker an ultimatum when they could have simply sent the documents to the Economic and Financial Crimes Commission, for example?' another source stated.
The development came just as the Minority Leader of the House, Alhaji Mohammed Ndume, declared that it was high time the leadership tackled the PML frontally.
Ndume said that the same lawmakers had gathered under various names since 2008 making the same allegations. But he declared, 'Enough is enough.
Ndume, who spoke with journalists in Abuja on Thursday, described the threat of the PML as dangerous and called for an immediate stop to it.
He added, 'What we had expected was that any member who had issues against the leadership would come forward and table such before the gathering of members, especially during plenary, if only for the House to take common a decision on such.'