Death and chaos as gunmen invade Rivers APC Secretariat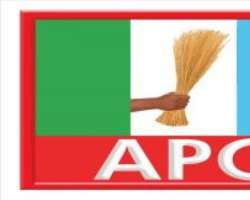 One person died in Port Harcourt on Friday as unidentified persons, suspected to be political thugs vandalised the Secretariat of the All Progressives Congress (APC) located at the Old Government Residential Area in Port Harcourt, Rivers.
The Rivers Command of the Nigerian Police quickly intervened by deploying tear-gas to stop further destruction of the party's secretariat.
Gunshots were fired into the air to scare riotous members and in the process, one death was recorded.
The News Agency of Nigeria (NAN) reports that APC members aspiring for various positions at the Ward levels had come to the party secretariat to pick their forms before the incident.
A Ward Chairmanship aspirant told NAN that he was unable to pick the form after paying the required amount through the bank.
He said that trouble occurred after a long wait by the aspirants.
"As you can see, most of us that are vying for different positions in our wards are here to pick the form but nobody is here to address us.
"We were told that sales of forms will commence by 3 pm but up till 5:30pm we didn't see anybody attending to us," he alleged.
NAN learnt from witnesses that violence broke out following the long wait. The party's secretariat was vandalised.
Efforts made by NAN reporter to get reactions from the police did not yield a result.
Mr Chris Finebone, Publicity Secretary of APC in Rivers via a text message said that what happened at the Secretariat was an act of wanton destruction that should be condemned by all.
"We regret that party leaders who have been canvassing for elections turned around to demand for consensus arrangement only to turn around to prevent the process of election through violence.
"We know them and time will prove them wrong," Finebone alleged.
There are 319 wards across the 23 local government areas of the state. (NAN)