Why Governor Okorocha opposes Senator Uzodimma joining APC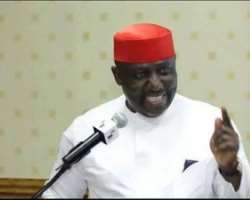 Governor Rochas Ethelbert Okorocha and Senator Hope Odidika Uzodimma are political heavyweights in Imo State who are currently at daggers drawn. They are currently trying to outwit each other through all manner of devilry as the 2019 political game unfolds. The bone of contention is the senatorial seat of Imo West, which is currently being occupied by Uzodimma. Okorocha wants to replace Uzodimma at the Senate by 2019. This ambition has pitied the governor against Uzodimma who also wants to retain his seat.
This must be why Okorocha is averse to Uzodimma's moves to join the All Progressives Congress, APC, which is factionalised in Imo, and he has not minced words in stating so. As it is, Uzodimma can only be in APC only if he joins the faction not controlled by Okorocha.
"It is insulting to the party in the state for someone to be talking about joining the party from Abuja. The procedure is that you start from your ward to your local government and, then, the state, and the state will inform the party at the national level that you are now a member. The reverse cannot be the case," Okorocha said on hearing that Uzodimma has defected APC from the Peoples Democratic Party, PDP, recently.
Okorocha apparently worried about Uzodimma's defection, has warned that he would not welcome him to the Imo Chapter of APC until he joins through the right way. In one video recording which has gone viral, Okorocha   jokingly referred to Uzodimma as political HIV/AIDS, warning Imo people to shine their eyes because the virus is back in town.
Also, in a press release by Sam Onwuemedo, his chief press secretary, issued on Tuesday, May 1, the governor, while reacting to the recent defection of Uzodinma, said that big names in Imo politics didn't identify with him in 2015 when he was campaigning for the election of President Buhari. According to him, Uzodinma and allies used the federal might of Goodluck Jonathan, former Nigerian president to humiliate Buhari's supporters as jihadists in Igboland.
But should Uzodimma be perturbed by Okorocha's threat? His political antecedent since this nascent democracy began in 1999, shows he is not likely succumb to Okorocha's antics. He has been prominent in Imo politics as a chieftain of Peoples Democratic Party, PDP. He is also a dogged fighter who like Okorocha will leave no stone unturned including shuffling political parties to achieve his objective. Just like Okorocha  moved from PDP to APGA to become  the governor and then to APC to retain the seat of power in 2015, Uzodimma has also shifted from from PDP to Alliance for Democracy, AD, a popular party in Nigeria's south-west to contest for 2003 governorship election against his friend- Achike Udenwa, former  Imo State governor. Unable to win the election, he re-joined PDP and even came second after Ifeanyi Ararume, then Imo North senator, in the December 2006 primary election.
The Omuma-born senator was never deterred by the loss in becoming governor as he ran for the senate seat in 2011 and defeated Osita Izunaso, former Imo West senator in PDP primary election of January 9, 2011. His going to the senate was not smooth as court litigations trailed him for months but he fought doggedly to reclaim his mandate through the Supreme Court on May 5, 2011. According to Wikipedia, the apex court ruling was influenced by the decision of PDP's national working committee of January 5, 2011, that "there was no evidence that Chief Hope Uzodinma has been convicted for murder, armed-robbery, obtaining money by false pretense and or for bankruptcy."
In 2015 general election, he was re-elected to the senate and was a member of the PDP board of trustee member till few months ago when he was removed because he fell out with the former Ahmed Makarfi led National Caretaker Committee of the party. He has been in a running battle with his party until his recent move to APC on April 27, alongside Ali Modu Sheriff, erstwhile chairman of PDP and others.
In his latest move to APC, he is most likely teaming up with the Ararume faction of APC in Imo state. This has generated reactions as some people believed that he has come to APC to demystify Okorocha's dominance in the party and thwart his bid to impose Uche Nwosu, governor's son-in-law as the party gubernatorial flagbearer in 2019.
Ike Nwosu, Owerri-based journalist, said that Uzodinma didn't join the party to stand behind the governor because "he will align forces with Ararume and Uwajumogu to fight Okorocha's system and Uche Nwosu." Also, he said that PDP must be happy for his leaving the party as he was seen as a 'principality' fighting them considering how he allegedly colluded with Okorocha in 2015 to deprive  PDP from winning in Oru East Local Government Area where he comes from.
Marshal Okafor Anyanwu, former state chairman of the All Progressives Grand Alliance, APGA, told Realnews that Uzodimma's defection was a good riddance to APC as Imo people are anticipating the party's failure in 2019 as a result of the obnoxious policies of the governor and the poverty ravishing the state. Anyanwu, who was an ally of Okorocha before 2015, however, agreed with the governor that Uzodinma didn't observe right process in joining the party and queried if he (Uzodinma) came to make or mar the party considering his antecedents of pursuing selfish interest.
Nonetheless, Uzodimma who is the chairman of Aviation committee at the Senate, has a lot of admirers as he is counted as one of the richest, influential and generous politicians in the state. This may have worked in his favour as he allegedly without the knowledge of Okorocha registered in his ward about three months ago as was stated by him in response to the governor's accusation stating otherwise. Realnews gathered that Omuma ward APC chairman was allegedly beaten this week by Okorocha's supporters for secretly registering Uzodinma without his consent.
Uzodimma told the press that he joined APC to strengthen the party in the south-east and realise the Igbo's dream of producing next president in 2023 when President Buhari must have completed his second tenure.
He appears to have the confidence of his colleagues at the Senate who on Wednesday, July 5, 2017, made him the chairman of Nigeria southern senators. Before he joined APC, the party has only Benjamin Uwajumogu, representing Imo North senatorial zone as the only senator in the south-east. Uzodimma's ambition of returning to the senate for the third term is threatened by Okorocha, who is from the same senatorial zone with him and have announced on several occasions that he wants to go to the senate after completing his second term in 2019.
Uzodimma might also be a beneficiary of Carl Schmit, a German jurist and political theorist, who propounded the theory of "friend-enemy" grouping.  He has deftly teamed up with his former political foe, Izunaso, along with the APC faction led by Ifeanyi Ararume, former senator representing Imo North and governorship hopeful in 2019, and Uwajumogu among others to fight Okorocha over his unorthodox way of running the party. How far this new found relations will last remains to be seen as they all have their various political ambitions for the senate and the governorship seat which might end up tearing them apart.
As expected, the people of Imo, who spoke to Realnews, are drawing their own conclusions from the political dogfight between Okorocha and Uzodimma.
Jordan Okoro, a legal practitioner in Owerri, said that Uzodinma is tactical as his defection is high-powered and negotiated.  He is of the view that Uzodinma "is negotiating with Ararume for his seat back at the National Assembly while tacitly supporting him for governorship. Moreover, Senator Uzodimma doesn't know how to play opposition. That's why he will always stay with the winning party."
Also, Lancelot Obiaku, an Imo indigene, said that the senator commands strong followership and knows how to negotiate with top powers as he is grounded in manoeuvring. He said that his entrance has shaken APC in Imo as he does not play second fiddle in politics, However, Obiaku admitted that it remains to be seen what his next political action would be to re-contest for the senate or go for the governorship race.