Buhari heads home after 'technical stopover' in London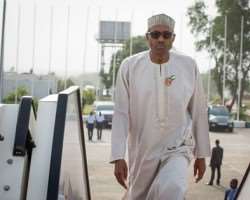 President Muhammadu Buhari is expected to return to the country on Thursday evening, said his Special Adviser on Media and Publicity, Mr Femi Adesina.
Mr Adesina made the announcement earlier in today via his Twitter handle.
Meanwhile, President Buhari is said to have had "a technical stop" over in London, on his way back to the country.
The Senior Special Assistant to the President on Media and Publicity, Mr Garba Shehu, who confirmed this to Channels Television in Abuja, revealed that the President is travelling in a smaller aircraft.
Shehu also explained that the flight crew travelling with President Buhari decided to break the long journey to refuel and do the routine checks.
He noted that the procedure was normal and that the President was already on his way back to Nigeria.
A Historic Visit
President Buhari is returning to the country days after he arrived in the United States on an official working visit following an invitation by President Donald Trump.
Following his arrival in the U.S. on Sunday, he visited the Blair House at Washington D.C. and held a bilateral meeting with President Trump on Monday at the White House.
During the meeting, President Buhari again blamed the killings in some parts of Nigeria by suspected herdsmen on armed men from Libya.
He noted that although the herdsmen crisis has been an age-long challenge in Nigeria, they do not carry guns but only wield sticks and occasionally machetes.
"The Nigerian herders don't carry anything more than a stick and, occasionally, a machete to cut down foliage and give it to their animals, these ones are carrying AK-47. So, people should not underrate what happened in Libya. 43 years of Gaddafi, people were recruited from the Sahel and trained to shoot and kill," Buhari had told Trump.
Shortly after the meeting, both leaders had proceeded to address a press conference where the U.S. leader commended the effort of the Nigerian President in fighting corruption and terrorism in Africa's most populous nation.
"Nigeria has a reputation for very massive corruption. I also know that the President (Buhari) has been able to cut that down very substantially. We talked about that, he is working on it and they have made a lot of progress and I think they will continue to make a lot of progress," Trump had said. (Channels TV)