Ughelli-ogor Modern Market: Delta Government Hand Over Market To Council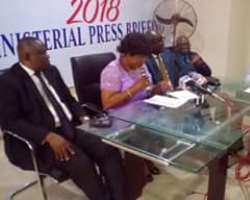 Over 15 years after the governor James Onanefe Ibori-led administration in Delta State conceived and began the construction of the multi-million naira Ughelli-Ogor Ultramodern market in Ughelli, the administrative headquarter of Ughelli north local government area and was completed by the immediate past administration of Dr Emmanuel Eweta Uduaghan, the incumbent, Dr Ifeanyi Okowa, has handed over the administration of the market to the council to run.
The council is also to reallocate and return the money paid by traders during the administration of Dr Uduaghan to secure shops in the market or abide by the existing allocation of shops to traders.
The Commissioner for Commerce and Industry, Barr (Mrs) Mary Iyasere, made the disclosure Monday while taking her turn in the ongoing Ministerial Press Briefing at the Ministry of Information.
Flanked by her counterpart, the state Information Commissioner, Patrick Ukah, the Commerce and Industry Commissioner hinted that what it would take for the market to come on stream were well articulated, "but the policy of government is that when markets are built in urban areas, it should be the business of the local government and private sector. So, the Ughelli modern market has been handed over to the Ughelli north local government and it is now their business to collaborate with private sector developers to refurbish the market and put it to use because these are markets that you have a lot of people who are ready to trade in them and pay their rent",
According to her, "the people who paid before for those stores, their money have not been used. Their money was deposited in the bank and as at the time the government says they are handing over the market at the last EXCO to the Ughelli north local government, it was brought to fore that the money paid by those people that have not been able to use the market is in the bank and the government has mandated the SSG and the Commissioner for Finance to look into the reallocation or paying back those people's money while the Ughelli north local government will take over the reallocation of the market".
Meanwhile, five other modern markets have been approved for construction by the Okowa-led administration aimed at opening up rural areas through commercial activities.
The markets include Orerokpe, Owa-Alero, Bomadi, Igbodo and Isiokolo at the contract sum of N375, 590, 214, N311, 775, 026.70, N339, 153, 698.08, N98, 494, 858.63 and N99, 995, 956.34 respectively.
Delta State Commissioner for Information, Patrick Ukah and his counterpart in Commernce and Industry, Barr. (Mrs.) Mary Awhotu Iyasere