Blessed Are The Peace Makers: Madumere's Memoir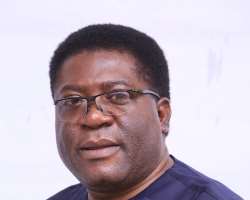 Prince Ezeakonobi Madumere
In a scotching Sun, patiently he stood for seconds; minutes and hours all in an effort to calm nerves, raging temperaments, return the already charged atmosphere of rancor laced with potential violence back to normalcy – a risk he considers worthwhile and even fulfilling in so far as peace was achieved at last.
At some points, this noble search for peace does not come without having to bear excruciating pains of insults, disregards, shout-down and at some occasions, injuries from hauling of dangerous weapons. This has been the bitter-sweet experience of Prince Ezeakonobi Madumere, the Deputy Governor of Imo State. He has been described as one of the greatest gifts in Conflict and Crisis Resolution in Imo State, Nigeria and across the globe.
Recently, at the disputing soil of Ihube autonomous community of Okigwe local government area of Imo State and their sister community of Uturu autonomous community in Isuikwuato local government of Abia State, Prince Eze Madumere with his Abia counterpart was made to remain in the sun and happily, too, all in a bid to achieve one goal, the goal of peace . Prince with his brother and colleague Deputy Governor stooped, accommodated all humiliations with most uncomplimentary words of discouragement, of course they braved it all and stooped to conquer.
His parting words to the disputants: "I know that the path of peace is tortuous, thorny, crooked, and most times discouraging and frustrating. The business of peace is an enduring engagement that takes patience if not perseverance. I also expect the traditional rulers here and other community leaders to tow the same line of tortuous honour to also initiate a peace move through dialogue. I believe that if we wish to have a lasting peace, we must agree among ourselves however how hard and that is the only bankable roadmap to sustainable peace."
Prince Madumere's crusade for peace has spanned well over 25 years. One of celebrated cases he superintended began from his community, Achi in Ezi-Mbieri autonomous community, Mbaitoli local government area of Imo State. History recorded it that were it not for Madumere's intervention during traditional stool tussle in the autonomous community, it remains to be imagined whether what is today called Ezi autonomous community could have remained an indivisible entity.
It is on record that Madumere in his wisdom chose to strategically unite the youth where they unanimously agreed not to yield to be used as instrument of destruction. This singular effort averted a predictable bloody clash of high magnitude. That singular managerial acumen gave birth to what is today known as Prince Eze Madumere unity Cup that has spanned for over two decades, giving opportunities to young people who are interested in football.
In 2013, while the face-off between Ancient Irete Community and Nigerian Bottling Company Plc, which almost grounded production activities of Nigerian Bottling Company plant, with the youths of the community, embarking on daily violent protests, it was Madumere who managed the crises, liaising with the leadership of the disputants until they were able to script a satisfactory Memoranda of Understanding.
Between 2012 and 2014, there was eruption of a seeming irreconcilable disagreement between Orsu-Obodo and Addax Petroleum; Prince Madumere again was able to work with both the community and the firm to come up with MoU that has brought a lasting peace in the community.
In July 2015 when Oloshi River was polluted by the spillage from AGIP crude reservoir, an event that brought pandemonium in the area due to the socio-economic importance of the said river, it took the quick intervention of Prince Madumere to bring down the already tensed atmosphere. He achieved this by quickly rallying round the youths and the leaders of the affected communities where he brokered peace and promised to follow on the issue. By this effort, he did not only prevent break down of law and order but achieved lasting peace.
As a man whose word is his bond, Prince Madumere did not fail to follow up on AGIP. In October of 2015, an opportunity of meeting with the top Management of AGIP during the 19th Farmers Day celebrations hosted by the oil company at the Green River Project Plant Propagation Centre in Ogba-Egbema, Ndoni Local Government Area of Rivers State. Prince Madumere noted that it was the first time the State would be invited for such an important event as an oil-producing state. He went ahead to make startling revelations of the marginalization of Imo oil producing communities. It was a battle to ensure that his people are not short-changed in their fair share of what is rightly theirs with the soul aim of achieving peaceful co-existence. He made similar effort in Awarra versus Walter Smith and one can go on and on.
It is incontrovertible to submit that Prince Eze Madumere, the Deputy Governor of Imo State is not just a leader but a rare breed who is endowed in many facets of life. It will also not be out of place to posit that Prince Eze Madumere with humility, sense of duty, administrative acumen, team work, negotiating prowess, knack for excellence in everything he is involved in, high premium for quality and above all Godly and love for peace is just that missing link that Imo people earnestly seek to turn the tide around.
Like the charge of our Lord Jesus Christ gave to His disciples, go ye, therefore, make every effort that leads to peace and mutual edification. Bible as the grund-norm to all good laws, the first charge of every government is to maintain peace, security of life and property.
Shortly after his investiture into the prestigious Fellowship of Nigerian Institute of Management at the Muson Center, Onikan, Lagos Island, the summary of all testimonies is that It will be rather uncharitable to Prince if we care less and not take cognizance of the fact that he is a great Crises Manager who could always fix those difficult challenges that may arise in the course of usual crack in human relations whether at the units or at the community even at the business level.
In his response as to how he has been able to achieve peace, he said; It takes integrity, sincerity of purpose, impartiality, discipline; you must not love money because in dispute and crisis resolution, there is no room for bribery, corruption and nepotism because you do not trade and toil with people's trust; and ultimately, you must be God fearing and remember the Holy Scriptures says: Blessed are the peace Makers for they shall be called sons of God.
Uche Onwuchekwa is a Political Scientist and Special Assistant to the Deputy Governor of Imo State and can be reached on Twitter:Onwuchekwauche