Barcelona clinches another La Liga title behind Lionel Messi's hat trick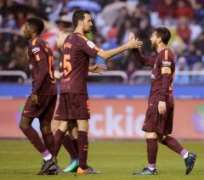 It was the ninth title for Lionel Messi and Andres Iniesta. It was their third domestic double in four years, and the eighth in club history.
It was a fitting end to a successful campaign in part because it was yet another record-setting day for Messi. The Argentine's 30th league goal of the campaign made him the first player to score 30-plus goals in seven different La Liga seasons.
His 31st of the La Liga season was the winner in the 82nd minuteHis 32nd – in 33 appearances – was an 85th-minute dagger.Barca was second-best by a wide margin for 10 or 15 second-half minutes with the score at 2-2. Deportivo pressed for a winner, and very nearly got it.
That part of the story can't be ignored. Barca's vulnerability was fitting as well. It conceded 17 shots. Its inability to sustain control of games has been an inescapable feature of this strange season. On another night, a third of those 17 shots might have found the back of the net; the undefeated record might have fallen; the king might have had to wait to reclaim its crown.
But on this one, there was no denying Messi. There was no denying Iniesta one last trophy, his 32nd. And there was no denying Barca its La Liga title.