Buhari's impeachment: PDP, APC loyalists clash at Benin Airport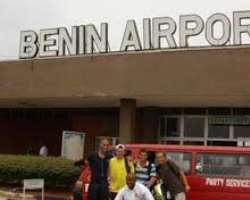 There was a heavy clash between supporters of the People's Democratic Party (PDP) and those of the All Progressives Congress (APC) outside the VIP arrival hall of the Benin city airport Friday evening, over a senator's anti Buhari comment at the Senate.
Security operatives, led by the Edo State Police Commissioner, Mr. Babatunde Kokumo, were overwhelmed, as the two sides engaged one another in a free for all at the entrance of the VIP arrival hall.
There were also operatives of the Federal SARS, anti riot policemen and some operatives in military uniform on ground, who earlier contained the tension and maintained palpable peace between the warring factions.
Tension however rose when the Senator representing Edo south senatorial district, Matthew Urhoghide, arrived at the airport and was being interviewed by journalists.
The two sides engaged one another, singing derogatory songs and throwing sachets of water at his direction, some of which got CP Kokumo wet, resulting in a free for all.
A man was knocked down close to the official vehicle of Governor Godwin Obaseki, causing security operatives to form a shield around the vehicle.
Senator Urhoghide who was forced to retreat into the VIP arrival hall, was however brought out by Governor Godwin Obaseki who arrived the airport a few moments earlier.
The situation was later brought under control by the security operatives.
Responding to questions from journalists, Senator Urhoghide said the Senate acted in line with section 146 of Nigeria's Constitution.
It would be recalled that a group that goes by the name Edo South Youth Coalition, during a protest in Benin, Friday morning, threatened to begin a recall process on Senator Matthew Urhoghide, for daring to move a motion calling for the impeachment of President Muhammadu Buhari, if he fails to apologize to him [Buhari] and retracts his statement within 48 hours.