Delta Information Commissioner Bags NIPR Presidential Excellence Award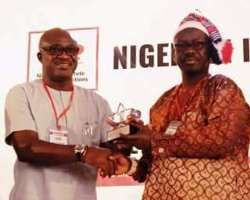 Astute Delta State Commissioner for Information, Ogbueshi Patrick Ukah, has bagged the highest Presidential Excellence Award of the Nigeria Institute of Public Relations (NIPR) for his leadership prowess.
The Information Commissioner and interim chairman of NIPR in Delta State was honoured with the award by the President and Chairman of Council, Dr. Rotimi Oladele, at the ongoing National Delegate Conference/Annual General Meeting (AGM), of the Institute at the International Conference Centre, Umuahia, Abia State.
Dr. Oladele, who presented the well-deserved award to the refined Information manager, applauded him for his ability to hold the state branch of NIPR together since he was given the mandate to reorganize the body.
Oladele, noted that within the period of time the mandate to reorganize the Delta State Chapter was given to him, Ukah had produce over 50 prospective members whose forms were being processed and out of which 12 were inducted recently, including motivating about 60 existing members to recertify their membership.
"I have confidence that Delta State is a chapter to watch out for in terms of adding affirmative value to NIPR. I commend him; even as strenuous as his job of Information Management could be as Commissioner, he still find time to do the much he is doing. I will only implore you to do more, because there is always a place for hard workers like you in history", he stressed.
In his response, the Information Commissioner, expressed his gratitude to NIPR President and Board of Council for finding him worthy of the award and reassured the national body of his commitment to the profession.
Meanwhile, encomiums from friends have continued to pour into the Facebook page of his media assistance, Mr Sam Ijeh who posted the award presentation to the Commissioner.