LIFE FOR BOSNIAN SERBS OVER GENOCIDE AT SREBRENICA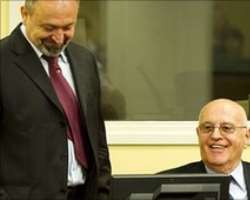 Vujadin Popovic (left) and Ljubisa Beara were senior military officials
A UN tribunal has convicted two Bosnian Serbs for committing genocide in the 1995 Srebrenica massacre and sentenced them to life in prison.
Vujadin Popovic and Ljubisa Beara were among seven former high-ranking military and police officials to be sentenced.
The court jailed five other defendants for between five and 35 years.
The case is the largest yet at the tribunal, set up to deal with war crimes in the Balkans during the 1990s.
Up to 8,000 Bosniaks (Bosnian Muslims) were killed in one week in Srebrenica in 1995.
If the judgements against Popovic and Beara are upheld, they will be the first suspects to be definitively convicted for genocide by the International Criminal Tribunal for the former Yugoslavia (ICTY).
Both men, chiefs of security in parts of the Bosnian Serb army, were found guilty of genocide, extermination, murder and persecution.
Another chief of security, Drago Nikolic, was found guilty of aiding and abetting genocide, and sentenced to a prison term of 35 years.
The ruling cited Popovic's "robust participation" in the massacre, while describing Beara as the "driving force behind the murder enterprise".
It also said that "a widespread and systematic attack against a civilian population" that culminated with the Srebrenica massacre had begun on orders from former Bosnian Serb President Radovan Karadzic.
He is also on trial at the tribunal, which is located in the Dutch city of The Hague.