Ebonyi Ssg: A Reinforcement Of Umahi's Second Term Support Base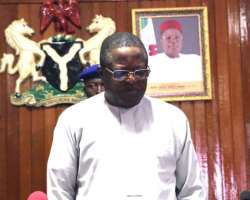 In less than a month, the appointment of Chief Hyginus Nweze Nwokwu as Secretary to the Government of Ebonyi State by Governor David Nweze Umahi of Ebonyi state is proving to be a political master stroke that the civil engineer Governor needed to rejig his support base in the build up to the 2019 elections. Nwokwu, a political scientist, a diplomat and career politician who grew through the political ranks knows how to pick his onions when it comes to political programming and implementation. A natural and ideological ally of Governor Umahi, Dr. Hyginus Nwokwu was in the trenches with Umahi and the masses of Ebonyi state during the war for liberation which the 2015 general elections became in Ebonyi state. He served as the Deputy Director-General in the Divine Mandate Organization which was the campaign platform of Chief Umahi in 2015. Nwokwu hails from Ezza Ezekuna which apart from being the eldest clan, is also the clan with the highest population and widest spread in Ebonyi state. Like we know, Ezza Ezekuna people live in substantial numbers in seven out of the thirteen Local Government Areas in Ebonyi state; and the Local Government Areas are Ezza North, Ezza South, Ishielu, Ohaukwu, Onicha, Ivo and Ebonyi. This spread of Ezza Ezekuna people is a direct result of the traditional investment of their divinely-endowed valour to peace-keeping and the protection of their weak or endangered brothers.
It can safely be said without equivocation that in the past, the resilient Ezza Ezekuna people were merely used as beasts of burden who did the hardest jobs and enjoyed little or nothing in return. At a point, an agenda of total annihilation was foisted on the people of Ezza Ezekuna by a man from whom Ezza Ezekuna people anticipated respite by virtue and coincidence of being both an inlaw and at the same time the superintendent of state craft and ancillary apparatuses in Ebonyi state! To the glory of God, Ezza Ezekuna people escaped annihilation, but their population, energy and integrity were sorely scathed while their influence were whittled to the ebbs. However, all that changed with the inauguration of the Divine Mandate administration in 2015 as Governor David Nweze Umahi reversed the evil agenda against the warm people of Ezza Ezekuna, began to uproot the vestiges thereof and has recorded unprecedented milestones in the admission of the people of Ezza Ezekuna into a degree of inclusiveness which hitherto existed in the realm of imagination!
By his inauguration as Secretary to the Government of Ebonyi State of Nigeria on 2nd April, 2018, Dr. Hyginus Nweze Nwokwu became the third Ezza man and the eighth Ebonyi man to occupy the exalted office since the creation of Ebonyi state. This notwithstanding, Nwokwu's appointment stands out as a unique one in many ways. It is the first time a detribalized man who is the pride of his people is assuming the exalted office. This is also the first time a full-time grassroots politician who shares in the ideological framework of the administration is taking up the position. Nwokwu equally posses the rare quality of being a cross-over personality with a flexible character and capacity to bring himself down to the level of any segment of the society in order to win or strengthen that segment's support for the administration.
A jolly good fellow, Nwokwu's appointment has continued to attract myriads of encomia to his appointer, His Excellency, Governor David Nweze Umahi, from all sections and generation of Ezza nation: The leadership of Ezza Ezekuna political class at home and in Diaspora which comprised National Assembly members, members of Ebonyi State legislature, members of Ebonyi State Executive Council, Council chairmen, chairmen of boards and commissions as well as councillors, supervisors and management committee members received the news of Dr. Nwokwu's appointment with unbridled excitement and praised Governor Umahi for appointing Nwokwu whom they described as "a distinguished practical politician and team player who understands the rubrics of the game of politics". In another unprecedented positive development, the Forum of Traditional Rulers of Ezza Ezekuna extraction in their well-publicized royal communique appreciated Governor David Nweze Umahi, Ikenga 1 of Ezza Ezekuna, for graciously appointing Dr. Nwokwu whom they described as "a consumate diplomat, a mid-field politician and our beloved son" as Secretary to the Government of Ebonyi state. The royal fathers who attested to Umahi's unconditional love for the people of Ezza Ezekuna also assured that "the great people of Ezza Ezekuna, have greater reasons to sustain their solidarity and commitment to ensure Your Excellency's re-election come 2019 in order to consolidate the uncommon transformation of Ebonyi State and her people which began under the Divine Mandate administration of Chief David Nweze Umahi in 2015".
To cap up these hearty solidarities, members of Ezza Ezekuna Youths Association spewed forth in legions to Ebonyi Cabinet office from the four corners of Ebonyi state in a courtesy call to the brand new Secretary to Ebonyi State Government on Tuesday 24th April, 2018. The group was led by Hon. Solomon Nwafor and Hon. Victor Uzoma Chukwu, a serving member of Ebonyi legislature, who respectively serve as National President and Secretary-general of the group. In their respective speeches on behalf of the youth group, they said that they have come to celebrate Nwokwu, whom they described as "a worthy ambassador of Ezza nation and courageous freedom fighter who is full of wisdom and patience". They expressed profound appreciations to the Governor of Ebonyi state whom they described as a lover of the people of Ezza Ezekuna and a leader who readily deserves a second term given the uncommon transformation witnessed in all sectors of Ebonyi state since he came on saddle in the past thirty-four months. An elder statesman, renowned anthropologist and former commissioner in the defunct East central state of Nigeria, Chief Njoku Afoke, who was in the interaction admonished the youths to be firm in their support for Governor Umahi concluding that in his "over five decades of involvement in governments" he has never seen a leader as visionary and courageous as Governor David Nweze Umahi.
In his response, the Secretary to the State Government of Ebonyi, Dr. Hyginus Nweze Nwokwu extolled Governor David Nweze Umahi for "braving all odds to good conscience to create Izzo autonomous community in Ishielu Local Government Area". Dr. Nweze, went further to say that by that singular act, Umahi has "brought Ezza Ezekuna people from the periphery of Ebonyi politics into the nucleus of Ebonyi politics". He charged the youths and indeed the entire Ezza Ezekuna clan irrespective of party affiliation to be steadfast, courageous and creative in their support for the second tenure project of Engr. David Nweze Umahi whom Dr. Nweze described as "the first and only man in Ebonyi state to make sacrifices for Ezza Ezekuna people"!
The interaction, which featured chants of solidarity songs for Governor Umahi, ended with photo sessions. So far, one thing is clear to all. That thing is that with Dr. Hyginus Nweze Nwokwu, a socially flexible man who thoroughly understands the architectural framework of Ebonyi politics as the SSG, the support base of Governor David Nweze Umahi's second term project has been reinforced. This is true because Nwokwu is a political asset, not a political liability.