"I Will Make Delta Investment Hub", ADP Governorship Aspirant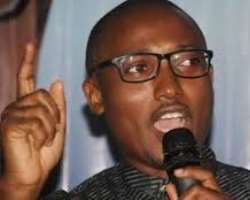 Comrade Frank Ufuoma Esanubi
Delta State governorship aspirant under the platform of the Action Democratic Party (ADP), Comrade Frank Ufuoma Esanubi, on Saturday boasted that he would floor the incumbent governor and be sworn-in as the next governor of the state come May 2019.
Esanubi made the assertion during a remark at a town hall meeting with party faithful in Sapele, the administrative headquarter of Sapele local government area.
In his remarks, Esanubi who disclosed that he would be contesting the 2019 governorship elections scheduled for March 2nd said he is running for the governorship position to restore Deltans from the Maladministration they have suffered from the Peoples' Democratic Party (PDP), in the past sixteen years and enthrone good governance.
Esanubi said his administration would return power to the people and place priority on providing quality education, infrastructural developments, and link up the riverine communities for investors to come.
Esanubi urged Deltans to play their roles in process of ensuring the emergence of good leaders by first obtaining their PVC's and make sure they come out and vote for the Action Democratic Party on the day of elections, "We cannot continue to play this money politics. Power is in our hands and we should use it wisely".
Esanubi stated that it is the highest level of irresponsibility on the part of the Delta State Government to allow a company like Eternit to pack out of Sapele Town.
Esanubi noted that Sapele was the only major town you can find leventist in the whole of the defunct Bendel State in the 70's like we have in Kano, Lagos, Enugu and other parts of the Country.
Esanubi stated that Sapele has become a "Shadow" of itself stressing that everything that should be in this town has been moved to other places.
Esanubi said, "We have to reverse that trend and in reversing the trend, we have to make sure that we do everything to bring investment into this town. It is embarrassing. I have friends here. One at a point in time worked in Eternit. It is irresponsible for a government to sit down and allow a company die under their watch.
"It is the highest level of irresponsibility on the part of any government to continue to have a Government in Delta State and will allow Eternit go down the drain is an embarrassment to the people of Delta State".
Esanubi promised to engage the private sector in reviving some industries in Sapele.
According to Esanubi,"Flower Mills is gone. AT&P they say it's back but they're not doing what they supposed to do because the vision of AT&P is not to be producing desk for primary schools. The vision of AT&P is to be the topmost furniture company from far away as Kano, Lagos, Enugu. They will tell you go to AT&P Sapele. That is where to get furniture. That's the vision we have for this town".
Esanubi also made a commitment to pay Civil Servants in the State their salaries on the 25th of every month, "My Commitment to the workers of Delta State is that by the 25th of every month, they'll get their salaries".
In his words: "I have been a worker all my life and am still a worker. The worst thing ever you can do to a worker is to have the person work for 30days and refuse to pay the man his wage. And we have people who are in authority and can eat in the morning, eat in the afternoon and take their dinner in the evening when the people are not paid for one, two to five months. Such people do not deserve to remain in authority.
"From the day I started work till date, I have always gotten my salary before 23rd or 24th of every month. And people that have employed me cannot be good to me and I will be bad to other people".
Esanubi also described as embarrassment that the riverine communities where crude oil is extracted from in the State are not linked to the major towns or cities.
Esanubi also stated that the solutions to the myriads of problems in Delta State and Nigeria are with the Action Democratic Party, ADP and not with the Peoples' Democratic Party and the All Progressives Congress APC.
He emphasized that the PDP APC has failed the people of Delta State and Nigeria in particular, "Action Democratic Party, is a party that is focused on giving youths and women opportunity into leadership. They're focused on bringing people that will be as credible alternative to the people of Delta State.
"And so everybody knows that PDP has failed us in the past 18-19years that they have been in Government. They have failed us. Everybody also knows that even APC at the Federal Government where they were given the opportunity, they have also failed and now, we know that the solution to the problems of Delta State and Nigeria is not with PDP, is not with APC. It is with ADP".
Earlier, the Director General of Esanubi Campaign Organization, Comrade Odjegba Omamode Ernest said, "This is our project. This project is the project for the future. In 1999 when Ibori was Governor, he was 41yrs. Gowon was the youngest at 32 he became President. Buhari was 38yrs old when he was Head of State. Obasanjo was between 40-41 when he was Head of State.
"Why would they say we should vote for somebody at 60yrs when you are supposed to be retired at 60?
Ernest described Comrade Esanubi as a vibrant and intelligent man, saying, "He is someone I know. If he puts his hands on the plough, he doesn't look back. He was Deputy President of PENGASSAN controlling over 20,000 members. He is a technocrat. He has been tested and trusted. He is my Governor 2019.
"He is a man that when he speaks, you see leadership in him. Most of our challenges are going to end when he becomes Governor. If all of us can talk in one voice, we will achieve our goal".