Senators barred from seeing Dino Melaye in hospital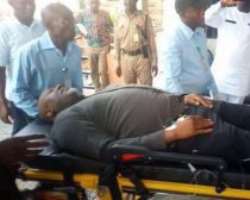 The drama surrounding the arrest and hospitalization of embattled Senator Dino Melaye took a worsening dimension, on Wednesday, as the Police barred the Senate leadership from visiting the senator, at the National Hospital, Abuja, where he is presently on admission from injuries sustained during his arrest.
On Wednesday morning, a high powered delegation sent by the President of the Senate, Dr. Abubakar Bukola Saraki, was prevented from seeing Melaye.
The delegation was led by the Deputy Senate Leader, Senator Ibn Bala Na'Allah, and also had Senators Emmanuel Betcha, Francis Alimikhena and Deputy Chief of Staff to the Senate President, Gbenga Makanjuola.
However, the delegation was prevented from seeing Melaye.
Melaye, who was moved to the National Hospital from Zankili Hospital, also in Abuja, sustained injuries, on Tuesday, in a bid to escape from policemen taking him to Lokoja in Kogi State by jumping out of the vehicle in which he was being taken.
Shortly after he was moved to the National Hospital, Melaye was put in handcuff.
Meanwhile, the Senate had earlier adjourned plenary in solidarity with Senator Dino Melaye, who was arrested and humiliated by men of the Police Force, on Tuesday.
The decision of the Senate followed a motion moved by lawmaker representing Imo West, Senator Sam Anyanwu, over the arrest of Melaye.
However, the prayer that the senate adjourn Plenary, in solidarity with the brutalized senator was moved by Senator Mao Ohuabunwa who insisted that there was no need for the senate to sit about and debate when the health condition of their colleague was unknown.
The senate also adopted the motion that the Inspector General of Police, Ibrahim Idris, briefed the senate in plenary tomorrow on the incident.
President of the Senate Bukola Saraki, said that the Senate leadership was very concerned about the turn of events surrounding the arrest and humiliation of their colleague stressing that he had already sent the Deputy Leader of the Senate to go and visit Melaye at the National Hospital Abuja.