Okowa Spends N112 Billion On 193 Roads In 3 Years --- Works Commissioner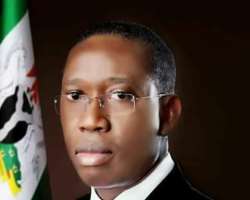 Barely a month into the three years administration of Ifeanyi Okowa, Delta State governor, "the Ministry of Works has embarked on the construction, reconstruction, rehabilitation and maintenance of 193 road projects covering over 732 kilometers of roads and 229 kilometers of concrete-line drains at the cost of over N112 billion between May 2015 and March 2018", James Augoye, the Works Commissioner has revealed.
The Works Commissioner at the ongoing Ministerial Press Briefing Monday at the Conference Hall, Ministry of Information, also disclosed that "the value of projects currently being handled by the ministry, including those inherited from the previous administration is put at over N215 billion and involves 208 roads with a total length of 866 kilometers of this figure, 92 roads covering over 350 kilometers have been completed while 116 roads are at various stages of completion".
According to Augoye, the construction of these roads, which comprise of highways as well as urban and rural roads, is geared towards improved mobility, the stimulation of agricultural and industrial activities as well as enhancing the quality of life for residents of the state.
Also, his counterpart in the Ministry of Environment, John Nani, who took his turn told journalists that the state is among 21 states in the country that have keyed into the Nigeria Erosion and Watershed Management Project of the World Bank/(NEWMAP), which was launched September 2017.
The Environment Commissioner stated that the state government has also paid its counterpart funding of N530 million.
"the prioritized erosion and flood sites include: Midoma/Iwerebor Erosion site, Owanta, Boji-Boji in Ika North East local government area; Obamkpa erosion site, Obankpa; Ukwu-Nzu Erosion siteUkwu-Nzu in Aniocha north local government area; Jesse flood site, Jesse Town, in Ethiope West and Onicha-Uku Erosion site, Ubulu-Uku in Aniocha south local government area of the state", he revealed.
He stated that consultants have been engaged for civil engineering designs, monitoring and evaluation baseline studies and geographical information system as well as other stakeholders such as community associations and site committees in all the erosion and flood sites including the use of focal Non-Governmental Organization for sensitization and continuous education of the people on the project is ongong.
In his words: "More so, final draft reports have been submitted for M&E baseline studies GIS consultancies", adding that design works for the five projects have been completed and forwarded to World Bank through the Federal Ministry of Environment for clearance.