Why I love Nigerians –Yvonne Chaka Chaka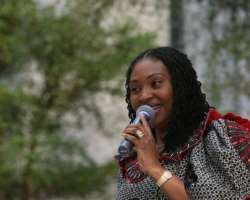 South African music diva, Yvonne Chaka Chaka has every reason to be angry with Nigerians. This is because many of her live shows which she recorded on CD were massively pirated by some Nigerian marketers. She lost so much revenue to these pirates and this affected her music career with a huge record of financial loss.
But the internationally acclaimed artiste who is better known as Princess of Africa told Daily Sun recently in Johannesburg that she has since forgiven all her detractors, particularly those traders in Nigeria who made fortunes illegally from her sweat. Yvonne, who performed last May 29 at the pre-World Cup concert organized by African Union (AU) in Guateng, Johannesburg for qualifying African countries (including Nigeria) said she still loves Nigeria so dearly.
According to her, she would continue to adore Nigerians irrespective of the piracy issue but that she would no longer allow her work be so pirated any longer. Her words: "I still love Nigerians (speaking in Youruba: mo feran yin ni Nigeria pupo). The fact that they (Nigerian traders) pirated my works does not mean I should hate other Nigerians. They are still my brothers because we are all Africans.
"And today (May 29) I was so happy to meet younger Nigerian artistes like D'Banj in South Africa. Now I think this is the time for us to be more united, be it politicians, social workers or artistes. I am particularly happy that South Africa is opening up avenue for al Africans to come together and collaborate on the future of the continent.''
Yvonne came to limelight when, as a young performer, she became the first black child to appear on South African television in 1981. Since then, she has consistently developed her creative potentials and expanded her media repertoire to include musician, record producer, talk radio and television shows and acting in several South African television dramas.
In most parts of the world, people often compare Yvonne to Oprah Winfrey. The two celebrities wield tremendous power with international audiences, and their fans consider them as role models. This influential friendship blossomed when the two met at Nelson Mandela's 85th birthday party in South Africa in 2003. Among the numerous world leaders whom Yvonne has met in her illustrious career, and whom she considered her favourite is mentor and father figure; Mandela.
Meanwhile, the album entitled 18/28 is the latest creative effort from the highly respected Princess of Africa whose career spans performing arts, entrepreneurship and humanitarian activities. But the power of numbers has always played a strong role in her ingenious and artistic career. The album 18/28 opens with Umbambe, an irresistable dance beat track which has the potential of becoming a dance floor classic.
It features maskandi-style rapping by the talented Ihashi Elimhlope which urges listeners to hold on to their partners, stay faithful to them and prevent AIDS. Track 2, called Siphithipithi, would always keep fans on their feet with its upbeat funk tempo. Let the Children Live challenges everyone to protect our most vulnerable citizens, and features the uniquely soulful sound of Grammy winner Hugh Maskela. Why is an every woman's love song, which allows Yvonne to express herself in an unrestrained jazz style accompanied by multi-talented guitarist Jimmy Dludlu. Track 5, Xivanlanyongeni, tells the story of friendship and betrayal with a captivating groove. Siyanikhumbula conveys a heart-felt tribute to great musicians of South Africa dying before their time, all whom she knew and loved; including Mabrr, Dolly Rathebe, Lebo Mathosa, Lucky Dube, Jabu Khanyile and niece TK.
Despite a travel schedule that keeps her on the road most of the time, Yvonne continues to create time to motivate, inspire and educate people. Her efforts towards raising donor monies from various African governments, the Global Fund, the World Bank and the Gates Foundation ensures that those who need help the most would get it. Some of the many awards she has received are the Rotary Paul Harris Fellowship, which was established in 1957.
Speaking on her life as a community worket and lover of the of the downtrodden, Yvonne said "I realise that it is through the efforst of others, who walked this path before me, that I am able to follow in their footsteps to help others. It is a privilege to serve my communities and make the world a better place for all our children.''
On how she developed her musical career under the support and care of her parents, Yvonne said: " My mother was always there for me.
She was a young widow who raised three daughters single-handedly on a domestic worker's salary. That took great courage and strength. When I was born in 1965 in Soweto, it was during apartheid, and those were extremely difficult times. When I was little I would strum an empty tin and blow into a broomstick pretending it was a microphone. I sang in church choirs. I loved singing. My father was a great musician who could never realise his dream. He died when I was 11 years old. I inherited my talent from both parents, so music is in my blood. I am blessed that I achieved what my father had not been able to accomplish.'