2018 Osun State Apc Gubernatorial Aspirants: Separating The Wheat From The Shaft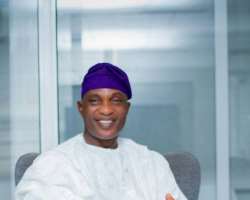 Come September 22, 2018, the electorate in Osun State will go to the polls to elect Governor Rauf Aregbesola's successor. While I'm not sympathetic to the aspiration of the opposition due to obvious reasons, there is no doubt that Independent National Electoral Commission's (INEC) release of the timetable for the forthcoming gubernatorial poll has ignited the political machinery in virtually all the political parties in the state.
Let me limit my comments to the ruling APC where tension is already mounting and the jostle to produce a candidate from its plethora of aspirants to occupy government house has heightened.
As at the last count, eminent sons of the state are reported to have signified interest in flying the flag of the ruling party.
Among them are Alhaji Adegboyega Oyetola, the incumbent Chief of Staff (COS) who, by virtue of his training, exposure, position and political affiliation, is by no means, a political heavyweight.
Also in the race is Alhaji Moshood Olalekan Adeoti, currently Secretary to the State Government (SSG). He is reported to have signified interest in the race to succeed Ogbeni Rauf Aregbesola. A grassroots politician, he was once the Chairman of the defunct Action Congress (AC) which later metamorphosed into the now-rested Action Congress of Nigeria (ACN).
We also have in the race Rt. Hon. Lasun Yusuff, currently, Deputy Speaker of the House of Representatives. Some schools of thought hold the notion that he is of the 'APC-Abuja' bent. Well, that's an issue for another day.
Other contenders whose names have been mentioned include Dr. Peter Babalola, formerly, a PDP chieftain and Chief of Staff in the Olagunsoye Oyinlola-led government. He is currently Chairman, State of Osun Local Govt. Service Commission; Comrade Kunle Adegoke popularly known as K-RAD who is a well-known activist and legal mind of repute.
Names like Engr. Oriolowo, Bola Oyebamiji and Elder Tunde Adedeji have also been touted as aspirants.
Another notable aspirant whose name has come up for mention as a worthy successor to Ogbeni Rauf Aregbesola in several circles is Hon. Yinka Ajayi (aka YACO). A two-term sitting member of the House of Representatives, Hon. Ajayi is Chairman, House Committee on AIds,Loans & Debt Management.
Well, while these aspirants are no doubt with provable track records, one major factor that may militate against the choice of a worthy successor to Aregbesola is the ethno-religion sentiment being attached to the issue. In my view, this consideration is a lazy premise which, if not well-managed, may lead to challenges of unimaginable proportions.
At a time like this, competence, neither where a particular aspirant comes from nor the religion he or she practises, should be the yardstick for electing Ogbeni's successor.
I don talk my own o!