Presidency explains as Buhari comes under fire for deriding Nigerian youths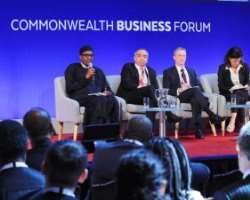 The Presidency said, Thursday, that President Muhammadu Buhari didn't deride all Nigerian youths as currently misinterpreted.
But Peoples Democratic Party, PDP, former Vice President, Atiku Abubakar; ex-Aviation Minister, Femi Fani-Kayode, and Nigerian Young Professionals Foum, NYPF, insisted that the President was wrong, saying Nigerian youths are hardworking in whatever vocation they find themselves.
Senior Special Adviser to the President on Media and Publicity, Mr Femi Adesina, who made the clarification, yesterday, said: "At the Commonwealth Business Forum in London on Wednesday, April 18, 2018, President Muhammadu Buhari gave a keynote address on Making Business Easier Between Commonwealth Countries. The presentation was followed by a discussion, and question and answer session.
"Responding to a question, President Buhari had cause to talk about some Nigerian youths, and he said 'We have a very young population; our population is estimated conservatively to be 180 million. More than 60 per cent of the population is below the age of 30. A lot of them have not been to school and they are claiming that Nigeria has been an oil producing country, therefore they should sit and do nothing and get housing, healthcare and education free.'
"Typical of their stock-in trade, manipulators and twisters of statements of Mr President, who lie in wait to make mischief, interpreted the comment to mean that President Buhari had taken all Nigerian youths to the cleaners. But elementary English recognises a wide gulf between 'a lot of' and the word 'all.' How can 'a lot of them," suddenly transmogrify to mean 'all of them?' Mischievous and unconscionable.
"There is no way President Buhari, father of the Nigerian nation in every sense of the word, who equally has biological children of his own in the youths age bracket, pass a vote of no confidence on all youths. It can only exist in the imagination of those who play what the President has described as 'irresponsible politics' with everything. President Buhari has always applauded and celebrated Nigerian youths who excel in different areas of endeavour, from sports, to academia, and other realms. And he will continue to do so, because he values the youths, and knows that they are the fulcrum on which the future of the country rests. ''Indeed, every country has its share of idle population, and it is the bounden duty of government at all levels to create an enabling environment for them to actualize their potentials. That is what President Buhari is committed to doing."
PDP, Atiku, Fani-Kayode, Omokri, others kick Meanwhile, Atiku Abubakar, Femi Fani-Kayode, and Senator Ben Murray-Bruce, yesterday, replied President Buhari, saying Nigerian youths were hardworking in whatever vocation they found themselves. PDP in a statement signed by its National Publicity Secretary, Kola Ologbondiyan, described as shocking, the comment by the President, noting that his remark brought the nation low in the eyes of the international community.
According to the statement, "how can President Buhari describe Nigerian youths as lazy, when they have proven, without doubt, to be one of the most industrious sets of individuals across the world? "Nigerians find it extremely shocking that President Buhari could make such a false, derogatory and unpatriotic comment against our citizens at a time the nation was looking up to him to properly present our potentials to the global business community." It's shameful—Atiku In his reaction, Atiku Abubakar described the President's statement as shameful.
Atiku, in a status update on his Facebook wall, yesterday, described Nigerian youths as enterprising and the backbone of the nation's success. He said: "I will never refer to Nigeria's youths as people who sit and do nothing. They are hardworking. I should know, I have thousands of youths working for me all over the country who have been the backbone to our success.
"I have always said oil is not Nigeria's greatest asset. Our greatest asset is our youths, who created Nollywood out of nothing and an entertainment industry that is second to none in Africa.
"Our youths are charting new frontiers; creating a huge technology industry on their own. Their entrepreneurial spirit, work ethic, and creative abilities are things of pride and should be applauded, encouraged and nurtured."
On his part, Fani-Kayode questioned the rationale for the President's remark about his own people, saying: "What type of leader takes pleasure in slandering, shaming, denigrating and humiliating his own people before the world; tells foreigners that his own children are lazy and unproductive?"
Also expressing dismay at the President's uncomplimentary remark, former aide of ex-President Goodluck Jonathan, Reno Omokri, queried: "How can you in one breath say that your country's youths are lazy and don't want to work and in the next, you appeal to foreign investors to come and invest in Nigeria?"
In its reaction, NYPF, which spoke through its chairman, Moses Siasia, asked President Buhari to apologise to Nigerian youths. "From that statement, it is obvious that the President is unaware that those who contribute up to eighty percent of Nigeria's Gross Domestic Product GDP through Small and Medium Scale Enterprises, SMEs, are youths. The President also ought to know that the youths in sports and entertainment industry are the ones bringing glory to our country and not his own generation.
"The youths in our entertainment industry are also creating enormous employment for other young people without any support from the government. ''Those winning medals for our country are youths and not old men. We have the likes of Asisat Oshoala, 2017 African Women Player of the Year; Patience Okon George, Nigerian best female quarter liner; Blessing Okogbare, and Victor Moses, among others."
Credit: Vanguard