Cppm Condemns The Desecration Of The Senate By Hoodlums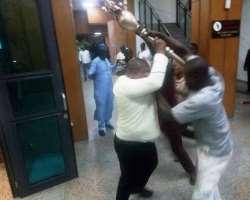 The Committee for the Protection of Peoples Mandate (CPPM) condemns in the strongest terms the desecration of the hallowed chamber of the Senate by suspected hoodlums yesterday, 18th April 2018 who stole the mace which is the symbol of authority of the house.
We are indeed saddened and embarrassed by this brazen act of criminality committed in broad daylight while the house was in session, which has ridiculed our democracy and impugned on our global image.
We hereby call on the security agencies to immediately deploy all within its arsenal to ensure the swift recovery of the mace and the apprehension of the suspects for prosecution.
We demand a thorough investigation of this security breach and a re-examination of the security system in the national Assembly and other public institutions in order to avert a reoccurrence of this national embarrassment.
We also want it placed on record that the seed for this criminality and desecration of the hallowed chamber of the Senate was planted and watered by the Senate's irresponsible, irresponsive, reckless, provocative, anti democratic, illegal and unconstitutional suspension of Senator Ovie Omo-Agege in utter violations of the laws of the land as enunciated in court judgements.
However, we must warn the spokesman of the Senate to be circumspect, responsible and civilized in identifying the perpetrators of this crime even before the commencement of investigation by the authorized agencies of state, because it has the tendency to portray the leadership of the house as having a premonition of what happened which indicts them as likely suspects and collaborators who had an inkling of the commission of a crime but did not inform the appropriate security agencies.