Naf Decorates 14 Newly-graduated Nigerian, Liberian Pilots In Abuja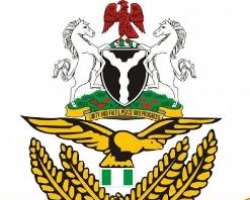 The Nigerian Air Force in Abuja decorated 14 of its newly-graduated pilots with their "Wings" after completion of their flight training in Nigeria and South Africa.
14 pilots decorated, 12 were from NAF, while two were from Liberia.
The officers include Flying officers A. Abba, T. Tamen, C. Gadzama, E. Agwu, M. Adamu, H. Ajagbe and A. Man-Ugwueje.
Others include O. Obi, Flight. Lt. V. Sirleaf, Flight Lt. J. Dwanah, O. Akadiri, Flying Officer P. Piyo, Flying officer D. Otuokon and Flying officer I. Obi. The Chief of Air Staff, Air Marshal Sadique Abubakar.
Decorating the officers with their pilot's wings, the Chief if Air Staff, Vice Marshal Saddique Abubakar urged them not to be complacent in their duties.
He advised the young pilots to be prepared for the task ahead as they fit into the operational flying environment. You must, therefore, be mentally prepared for mentoring by your captains and sector colleagues in the field."
He also urged the officers not to forget the three 'Ds' to success, which are Drive, Discipline and Desire in the quest for daily improvement.