Giving Life to the Orphans, Less Privileged in the Society: Lord Keston Foundation Sets the Pace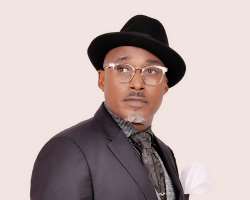 founder and Chief Executive Officer of Chief (Dr) Lord Keston Okoro Foundation, Chief Hon (Dr) Lord Keston Mohammed Okoro Al-Amin
There are so many tournaments the world over today but none of these tournaments are focused on the orphans and less privileged in the society. Sometimes, they feel that the less privileged or orphans and disabled persons cannot possibly do what the able persons can do. But that is not true.
To this end therefore, there is the need to focus on these people who have great potentials to contribute positively to the society. This is the essence of chief Hon. (Dr.) Lord Keston Okoro Orphanage Economic Empowerment Tournament.
In an interview with our Chief Bureau Correspondent, the founder and Chief Executive Officer of Chief (Dr) Lord Keston Okoro Foundation, Chief Hon (Dr) Lord Keston Mohammed Okoro Al-Amin, former member representing Udu Constituency in Delta State House of Assembly and Delta Central Senatorial Aspirant in 2019 general elections, throws more light on the tournament, the God's Religious Carnival proposed for May/June in Delta State and other issues as it affects party and the personality involved.
Excerpts:
What do you mean by Orphanage Economic Empowerment Tournament?
When I talk about Orphanage Economic Empowerment Tournament, you see, there are so many tournaments going on around the whole wide world and its very rare before people can focus or channel their resources on the less privilege. Sometimes, they feel that the less privilege or disabled persons cannot do what the able persons are doing. But that's not true. Some of the greatest men we have in the world today are orphans. Most of them came from a very poor home. If you look into history, one of the greatest and richest man we have in Africa today, Alhaji Aliko Dangote, was more or less an orphan. If you look at the likes of our former Governor, Chief James Ibori, he came from a very poor background. Even from the Bible perspective, if you look at Jesus Christ, the Lord we adore today, he came from a very poor home including my humble self. So, if you look into the history of great men and women we have today, it's either they are the ones adopted or those who came from the orphanage homes.
So, I now deemed it fit that we have to drag the focus of this tournament towards the houses of the orphanage so that they can have the sense of belonging and the feeling of livelihood as well as the sense of being important in the society. That will help to bring them up to a very good standard of life. That will also help us to fish out those who are skillful amongst them. That will make us ensure that their lives are cared for physically, mentally, morally and otherwise. This will also give us the opportunity to also develop those that are not talented and skillful.
That's the more reason we tagged it Orphanage Economic Empowerment Tournament. From this perspective you can find out that most of them have skills in the area of music, fashion and design and any other aspects of life. And at the end of this tournament we issue them starter packs, encourage those who excel In the area of 'Brain Cash' and all that, others will be given scholarships to go to their schools. Those who excel in music will be taken to the studio for music recording and sign them up and put them into the world stage to become superstars. May be you are a beautiful girl, we put you in beauty pageant and you become a face or queen of model. It's a way of trying to empower them, bring them into the world stage and let the world know the importance of these people. If you don't focus on the importance of their lives, you can just allow them waste away and of a big setback to nation's advancement. That's the importance of this tournament. We really want to bring the good out of these people, the less privilege, the disabled persons, the orphans and make the world know the importance of these people.
The tournament as it where, appears financially cumbersome. What is the source of the finance?
There are people who are potential philanthropists and who are of like minds and who would like to participate in this tournament willingly and we're also trying to see how we can appeal to them to do the needful in the lives of these people. We are also looking at how we can approach the government, corporate bodies, multi-nationals, national and international organizations/communities, individuals and all that. If they see the importance of this tournament, they will not hesitate or be compelled to assist. They will come out on their own and say, 'well, I will like to invest in this tournament'. If you are developing a single person you are developing a thousand persons. Putting life in one soul is akin to putting life in 10,000 souls. So, it does not need much emphasis. Pertinently, it is obvious that the less privilege is God's first priority and because God created these people, God will also want to be involved. And for the fact that we're also putting God first in all that we do, the money will come and as such the programme will kick off immediately.
The God's Religious Carnival, how does it look like?
That one is a very marvelous and wonderful one because it is likened to that of the tournament. Most carnivals world over are geared towards promoting idols, goddess, mermaids, craft works and so on. You see them demonstrating the cultural values of the jujus and their masquerades. But a very few carnivals are championed towards religions. The religious carnivals are most beautiful than any carnival you can think of. You are celebrating God's goodness. It's peaceful, creative with functional activities, traditional and cultural values and above all, it touches the whole essence of life while showcasing the importance of God, the wonders of God, the miracles of God, the abilities of God in our lives. So, I felt that is the best thing a man will ever involve himself in. because without God's presence in our lives we're nobody. Without upholding the principles and doctrines of God in our lives we're nobody. And when God sees you demonstrating and exhibiting His works or His values, He becomes very happy and of course everything you do He shares with you thus you are blessed exceedingly.
So, we now deemed it fit that our carnival must be God's carnival. Of course, God's carnival shall cut across all religions. Like I keep telling people that not until a Moslem see a Christian as his own blood brother there will be no peace and vice-versa. For crying out loud, these two religions came from the same father, Abraham. Ishmael brought Islam while Isaac brought Christianity. That's the Quaran and Bible that we read. To this end the carnival is geared towards bringing unity and love amongst the religions as this will make them come together, celebrate and enjoy themselves. I think it's one of the greatest carnivals in the whole wide world.
In the carnival you will see the Christians as it involves Catholics, Redeemed Christian members, Christ Embassy, Winners Chapel, Mountain of Fire, Deeper life, Apostolic Churches, etc and Muslims and other religions. It is totally encompassing in nature. It has its economic values, cultural values, traditional values, religious values and so on. That's the main purpose of the carnival. We cannot be celebrating man-made idols, masquerades in our carnivals all the time in the name of coming together and being happy.
When is the maiden edition kicking off?
For now, we have proposed between May/June to start the first edition in Delta State. But when you're doing a thing like this you also need to do wide consultations and see how you can bring all hands on deck. And we don't want to marginalize anybody or any religion or to see anyone feeling neglected. So, I think we'll end up with our consultations this very month and we shall come up with a final date of this carnival.
The sponsorship drive of this carnival, is it saddled upon government or corporate bodies alone?
Let me tell you something from the Bible perspective, God said that if the grasses can cloth themselves and the birds can feed, let alone we human beings. It is expected that if the juju or masquerade carnivals can sustain their carnival project, I don't think God's own can be a problem. It is very minute before God. Funds will eventually come from everywhere. Either from the government, religious bodies, individuals, cooperate bodies in fact, from everywhere. The Lord said that he that is with God is with majority of course, it is unlimited. He said 'whatever you ask in my name shall be given unto you. So I'm not thinking of it one day that it will be very difficult for us to do. This is because the funds are already there. Before God brought the initiative He has already provided the fund for the project.
The president just made his intention known to Nigerians that he will be running in 2019 as President. What are the implications on APC as a party?
I don't think the president is bigger than the party or his authorities supersede that of the party. Before the president came out, it is the collective decision of the party. I don't think the president can single-handedly come out to say I am going to do this. I think they have sat down with the protagonists and resource persons within the party and decided that Mr. President should go back as President before he came out to make pronouncement. Since he made this pronouncement, I have not seen any state APC or LGA chapter or an individual from APC houses counter what the President had said "So, if we say the negative impact", if the APC house is divided some people would have come out to say "Please Mr. President, with due respect and as member of the APC, you are not credible to contest the election. I have not seen anybody who have come out to challenge or kick against the pronouncement of Mr. President. That shows that it is the majority decision of the APC that prompted Mr. President to make the pronouncement. Of course silence means consent.
Most Nigerians are saying his coming out again will make the economy tight for another four years. How true is this?
Some people are shouting that the economy is tight while some are rejoicing that the economy is favourable to them. Not so? From my personal opinion, God should take his final decision, if God deem it fit. Though we say the voice of men is the voice of God, God has the final say. It was in the presume of God and all Nigerians that he emerged as the president. The man has contested severally and failed. But this time God said No! You will be there and then he was there. Even as at then he contested against the incumbent and the incumbent couldn't win him. I think the handwriting of God is still on the wall. So, if most people are saying the man is not going, but I do think everything in the hands of God to take his absolute decision that is befitting for Nigerians. Even Christ came and sacrificed his life and he did all he can but yet he was killed. It is said that uneasy lies the head that wears the crown. You might think what the man is doing is wrong, but if you are given the opportunity to be there you might be surprised. Sometimes you will do worse than him. Finally, what I can say is that this is a country that belongs to all of us. We pray that God should bring a President that will lead this country into a greater height, if it is Buhari, God should touch his mind. If the mind he is having will not be in the best interest of Nigeria, God should transform him and turn his heart around for the good of Nigerians because the hearts of the Kings is in God's hand. He turneth it the way he willeth. But if it is not Buhari or anybody else that God deem fit that will take this country to a greater height so be it. They say when the wicked rule the people suffers. But when the righteous rule the people rejoice. You can fool the people sometimes but you can't fool them all the time. Like I said, if it is Buhari that God should touch his heart so that he can listen to the voices of the people. But if it's not Buhari, whoever God wants to bring to us, he should bring somebody that will also listen to the voices of the people and take this country to the peoples' expectation.
Now looking at others political parties, some are clamoring for merger to form a formidable force against the ruling party. What is your take on this?
Yes! Merger has been there in politics for a very long time. It provides avenue for those who feels they can work together to achieve a common interest. It's acceptable in democratic setting, but you know everybody has different interest and everybody cannot accept merger, but the beauty of democracy is when some people are on the left others are on the right. There is no way all the parties can come together and say let's be in one party. PDP has been there, APC is there, we all need a change. Human beings need change all the time. Sometimes they cry even after the change. If parties want to merge, fine! If their merging is in the interest of the country, there is nothing wrong about it. But if a party wants to be on his own and provide the needs of the people, there's nothing wrong with that. Democracy you see is a game of interest. Everybody has his interest, but there's room for fair play. Like the constitution said that we have freedom of association and assembly for whatever party you want to belong. Fine! If I deem it fit I can't contest from PDP or APC or APGA etc. I can move to SDP. This is because it has come to the time that people don't look at the party. They should cast their votes on the personality that is involved. The party is just a name. The party cannot work without the people. The people in the party champion the aims and objectives of the party for which it is formed. If the person that is there is capable of delivering your interest, then cast your vote for him/her. These days money doesn't even buy the conscience of the people again. So, if you know that Lord Keston is the person that can meet your interest and he is in SDP or whatever party he belongs, cast your vote for Keston irrespective of the party. So, let's look at the individual or personality that is involved. Again, being in PDP, APC or SDP, they are the same people. If you know that this man is good for you irrespective of the party he is, cast your vote there. I want to tell Nigerians that it is the person that is involved that matter, not the party. Whatever party he is, cast your vote there. That is my position.
Conclusively, in politics there is no permanent friend and no permanent enemy, thus, I do pray we should do politics with peace, love and harmony as we are all brothers and sisters in the game.